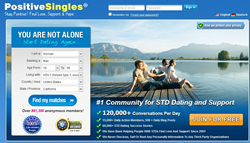 Los Angeles California (PRWEB) November 26, 2014
According to the report on poz on Oct.27, over 1,000 leaders in the US have signed a National Consensus Statement on the Criminalization of HIV. The Positive Justice Project (PJP) is a coalition working towards ending HIV felony laws in the US. Currently, 32 US states have laws which make it a crime for an HIV-positive person to fail to disclose this fact to another person during low-risk, otherwise legal behavior.
In light of this move by the PJP and the statement urging the reform of these HIV-related criminal laws, members of PositiveSingles.com expressed a range of opinions. PositiveSingles.com is the largest online dating site specifically for people with HIV and other STDs, and this HIV dating site has an active discussion forum for members.
One member said that they understand a person's need for privacy, due to the stigma of being HIV-positive. In spite of that, they tell any partner about their status, even for low-risk behavior. They felt "tell then kiss" is appropriate, since they should not make the decision for somebody else about what constitutes an acceptable risk. However, they didn't think it should be a felony to kiss without telling.
Other members on PositiveSingles.com expressed concern about the tendency for newly infected people to hide their status if using a condom, because of their fear of rejection. Most members found this disturbing, and felt that full disclosure is the best practice. They felt that not disclosing and having sex without a condom should be a felony, while there were mixed sentiments about whether that was also true with a condom.
About PositiveSingles
PositiveSingles.com is the largest online dating site designed for people with HIV and other STDs, and the site has helped HIV singles find love for more than 13 years. Members use the site to find dates and make friends, and they appreciate the warm, supportive community that this site provides. Members can create a free profile, and remain anonymous as long as they wish.