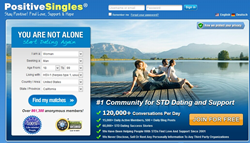 Los Angeles, CA (PRWEB) November 27, 2014
Herpes is a common and contagious STD in the United States. People with herpes want to date and find love, but what happens when they're in a relationship with somebody who does not have the disease? In a recent hot topic (only members can reach the hot topic page) at PositiveSingles.com, members discussed whether they had ever spread the herpes virus to someone they were dating, and how it affected their relationship.
On one side of the question, 50% of members at this herpes dating site said that when people are in love, it shouldn't matter if their partner catches the disease. They're in love with someone for other reasons, and should see past the herpes. On the other side, the other half members said that a partner may not realize what they got themselves into. They say they accept the other part, but when they learn more about it, will come to resent the other part .
Several members discussed this in light of catching herpes themselves, and said they had forgiven the person who gave it to them. One member said that they overlooked the condition because they loved their partner. Another said that herpes isn't really that bad, and that he forgave the person who gave it to him long ago.
Other members on PositiveSingles.com described relationships that fell apart because they had herpes. One person said that after her partner contracted herpes, he was so shaken by it that he broke off the relationship. Another said that although their partner claimed it didn't bother them, the resentment set in anyway and tore them apart. Yet another said that just by telling someone about having herpes, the relationship changed totally in just a few hours.
A couple of members said that issues like this are why they choose to date other people who already have herpes. One person said they feel like they can never date like a normal person ever again, so they stick to herpes dating within the community.
About PositiveSingles
PositiveSingles.com is the largest online dating site catering specifically to people with herpes and other STDs, and the site has helped herpes singles to find love for more than 13 years. Members use the site to find dates and make friends, and they appreciate the supportive community they find here.