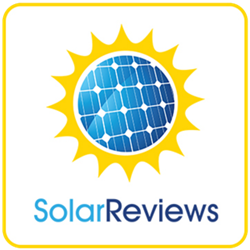 a positive online reputation leads to a greater number of inbound consumer inquiries and consequently helps increase sales
Lakewood, CO (PRWEB) November 26, 2014
Since launching a few short years ago SolarReviews has amassed a huge quantity of customer-generated reviews of consumers' actual experience with their solar installer and service provider. Today SolarReviews congratulates the top 50 of those solar installer partners that have received the most customer-generated reviews in the U.S.
"These 50 solar installers understand the importance of having a positive online reputation," said SolarReviews President Jamie Lakes. "They understand that a positive online reputation leads to a greater number of inbound consumer inquiries and consequently helps increase sales."
Customer-generated reviews are one of the most important means consumers have to learn about products and services. Many consumers that have purchased products or services from a vendor won't take the time to review their purchases but those that do have often received excellent experiences with their products and services or very poor experiences, prompting them to let their peers know what they can expect from that vendor or company.
That's why services like Yelp and Consumer Reports, as well as reviews on sites like Amazon and eBay are popular, powerful tools that help people decide which products and services best meet their needs. However, unlike Yelp, SolarReviews does not artificially manipulate reviews to benefit certain companies or its customers over others.
Consumers are paying attention to reviews. Earlier this year UnThink Solar's Tor Valenza and Judy Ash, Enphase's senior director of global marketing held a webinar discussing quality and price related to solar installations. During that webinar they disclosed some findings from a Enphase survey of solar homeowners with its microinverters and found that 69 percent of of respondents chose their solar installer because the consumers found they were the: "Most trusted or highest rated installer." That overwhelmingly trumps the 56 percent that made their decision based purely on price.
The overwhelming majority of reviews from SolarReviews' Top 50 List are highly positive reviews—and almost all participate in its Pre-Screened Solar Pros accreditation program, which goes the extra mile to assure the installers are in good standing with ContractorCheck.com—showing that these solar installers go the extra mile in meeting their customers' needs. "Ingrained in our company's DNA is the value of treating others as we want to be treated," said Positive Energy Vice President of Sales Taylor Selby. With more than 200 positive customer reviews Positive Energy is the leader in generating reviews on SolarReviews.
"Positive Energy Solar has been recognized as the leading solar installer in New Mexico and we are thrilled to be recognized as the top contractor in the country by our positive reviews on SolarReviews," Selby said. "SolarReviews is an excellent transparent tool that helps potential clients know what the can expect from a company they are exploring doing business with."
Sites like Angie's List (a paid service) and Yelp are great for many reviewing many services and Amazon and eBay are great for reviewing products and their vendors, but they aren't so good covering the breadth of a solar installation since it involves a variety of products and services that must come together as one. These include quality solar panels, inverters and equipment, personnel skills in sales, installation, permitting, as well as ongoing monitoring and maintenance. That's where SolarReviews, the largest database of solar reviews in the U.S., excels while remaining impartial.
"SolarReviews allows consumers to read and submit reviews for free, makes all of its solar installation reviews public and makes sure that those writing the reviews have actually had the product installed by the company they are reviewing," Lakes said. "We do not charge installers for reviews and do not hide any reviews that could either boost or blemish an installer's reputation."
Top 50 reviewed companies on SolarReviews' site by number of reviews as of mid Nov. 2014:
Positive Energy Solar (NM) - 211
Sunspot Solar Energy Systems (NM) - 145
Sierra Pacific Solar (CA) - 135
New England Clean Energy (MA) - 134
SolarTek Solutions (UT) - 117
Cosmic Solar (CA) - 95
Black Platinum Solar & Electric (AZ) - 92
Whidbey Sun & Wind (WA) - 84
RGS Energy (CO) - 74
Sunstore Solar (SC) - 71
SUNation Solar Systems (NY) - 65
Ameco Solar (CA) - 62
Energy Solution Providers (AZ) - 61
Astrum Solar (PA) - 60
AM Sun Solar (CA) - 59
Fire Mountain Solar (WA) - 59
Solar Plexus (MT) - 58
Innovative Energy (CO) - 53
A1A Solar Contracting (FL) - 52
PEP Solar (AZ) - 52
Exact Solar (PA) - 51
Horizon Solar Power (CA) - 51
SolarMax Technology (CA) - 50
Arizona Solar Wave (AZ) - 48
Renova Solar (CA) - 47
Jamar Power Systems (CA) - 45
California Sun Systems (CA) - 43
South Sound Solar (WA) - 43
Longhorn Solar (TX) - 42
Solar Forward (CA) - 42
Energy Concepts (WI) - 41
All Solar Electric (CA) - 39
Great Brook Solar NRG (NY) - 38
Highlight Solar (CA) - 38
Sunsense Solar (CO) - 38
A&R Solar (WA) - 35
Lifestyle Solar (CA) - 35
Lightwave Solar Electric (TN) - 35
Solar Universe Northeast PA (PA) - 35
Sunquest Solar (AZ) - 35
PetersenDean Roofing & Solar Energy (CA) - 34
California Solar Electric (CA) - 33
Solar Energy Services (MD) - 33
Power Production Management (FL) - 32
Texas Solar Outfitters (TX) - 32
APS Solar (CA) - 30
Maryland Solar Solutions (MD) - 30
Sunfusion Solar (CA) - 30
Affordable Solar (NM) - 29
Earth Energy Innovations (PA) - 29
Solar-Ray (FL) - 29
About SolarReviews:
SolarReviews hosts the U.S.'s largest collection of independent consumer-generated reviews of the services they received from solar installers and offers Pre-Screened Solar Pro accreditation. The accreditation is a performance-based quality achievement that shows solar installers' commitment to customer satisfaction and exemplary customer service. http://www.solarreviews.com
Contact:
SolarReviews President Jamie Lakes
303-242-5519
jamie(at)solarreviews(dot)com
Source: SolarReviews