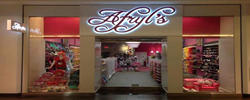 Afryl's Accessories - Authorized Sanrio Store
Tampa, Fla. (PRWEB) November 26, 2014
Afryl's Accessories, an authorized Sanrio Store at the Westfield Countryside Mall, opened its doors last November and has furthered its identity with one very famous character in mind: "Hello Kitty". Surprising area shoppers with highly desired products not found anywhere but Afryl's Accessories is what the company does best. The Ju-Ju-Be Hello Kitty & Ju-Ju-Be tokidoki Collections being added are no exception.
Afryl's Accessories launched in 2013 by adding tokidoki, a Sanrio licensed manufacturer. Currently, Afryl's Accessories carries the tokidoki Hello Kitty Collection and tokidoki's own exotic character accessories. The tokidoki characters are designed by the famous designer and co-founder of tokidoki, Simone Legno. The new Ju-Ju-Be collection only adds to Afryl's Accessories' already impressive and trendy selection of premium bags.
Afryl's Accessories is one of only a few authorized Sanrio stores in Florida. The store's mixture of products and brands is one of Afryl's Accessories secrets to success, so brand selection is not taken lightly. Speaking about the mixture of brands—the new ones and the old staples—Afryl's Tan-Potts stated: "We are extremely excited about the addition of Ju-Ju-Be to Afryl's Accessories! Although our shape will never stop forming, we feel that based on our customers' feedback, we have what makes Afryl's successful down to a science. This knowledge is something we couldn't have learned without our customers."
Customers are responsive to Afryl's Accessories' desire to create the best selection of premium products: the company has cultivated a Facebook following of over 10,000, mostly in the Tampa Bay area. "Customers have traveled hundreds of miles just to come to our store. It's surreal; we are so grateful to have customers like we do," said the owner. "I love all our brands; Ju-Ju-Be is delightful in its own unique way but also adds great value to the store."
To learn more about Afryl's Accessories, the brands it carries, and the new Ju-Ju-Be product line, please visit http://www.facebook.com/afrylsaccessories and http://www.twitter.com/afrylsaccess.
Afryl's Accessories
27001 US Highway 19 North
Clearwater, FL 33761
727-656-5934
http://www.afrylsaccessories.com