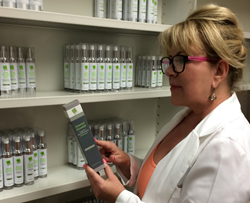 "I'm passionate about helping consumers better understand what they are putting into their skin and why. You've got to read those labels!"
Woodland Hills, CA (PRWEB) November 25, 2014
Drawing from more than twenty years of working closely with dermatologists, plastic surgeons, medical spas and consumers around the USA, NR Skin Founder and CEO Nancy Ryan is determined to help people better understand the ingredients that they are putting into their skin and why.
Her newly launched company, NR Skin, is built around the overarching objective to bring "good health, wellness and vitality to people through their skin, with a passion for educating consumers so that they can fully understand the features and functions of skin care ingredients."
Nancy Ryan envisions a world where consumers will "read their skin product labels with the same interest and knowledge as they now read food product labels in the grocery store." Based upon years of observation and industry feedback, she recognizes a dire need to help consumers better understand what they are actually putting into their skin and why. She comments, "With all of the complex ingredients listed on skin care products today, it's easy to feel like you have to be chemist to know what's going into your skin— with the rolling microscopic text, the long chemical names and, of course, the Latin, these ingredient lists can be quite difficult to decipher. I'm committed to help clear this up and help consumers prioritize label-reading on their skin care products so that they can make better choices for skin rejuvenation and repair."
Ms. Ryan points out that the FDA requires that skin care ingredients on the product label are listed in the order of highest to lowest concentration. For example, if hyaluronic acid is the fifth item in the ingredient list for a moisturizer, it is the fifth most concentrated ingredient in the product.
As consumers may not fully realize, the more ingredients on the list, the less concentration of each ingredient as the list goes down. Therefore, she points out that "it is important to be certain that the active ingredients – the ones you are paying for to improve your skin – are listed near the beginning of the list. " Ingredients listed near the end of the list typically comprise less than one percent of the total and if so, can be listed in any order.
In all skincare products sold in the United States, ingredients are always listed in proportional order with highest quantities at the top of the list. With that in mind, Ms. Ryan encourages consumers to "look carefully at the list of ingredients on your favorite cream or serum and see if the active ingredients at the top or bottom of the list. Many people are surprised when they do this!"
To learn more about the ingredients that go into NR Skin products, visit the Ingredients tab for each product in the NR Skin line. http://www.nrskin.com/skincare-products
ABOUT NANCY RYAN
Throughout more than two decades of rigorous experience and training in the skin care industry, Nancy Ryan has been passionate about helping people achieve healthy, beautiful skin. The development of the NR Skin line of products in 2014 is the culmination of her life's work, and a dream realized.
Nancy acquired specialized training and expertise with two pioneering skin care companies, OrthoDermatologics™, makers of Retin-A Micro®/Renova®) and NeoStrata®, where she had the opportunity to learn about skin care chemistry and the most effective ways to treat various skin conditions with specific product ingredients.
In 1993, she founded Pro-Med Consulting, Inc., built upon the core mission of giving dermatologists, plastic surgeons and medical spas a uniquely powerful way to build their own brand equity and expand their businesses with private label, medical-grade skin care products. Over the years, Nancy developed numerous, close working relationships with leading physicians, whose businesses grew significantly by offering patients her high performance products that bore each doctor's name.
It is this same passion and commitment to excellence that led Nancy to create the NR Skin line directly for consumers.
Nancy keeps her fingers on the pulse of the dermatologic community; since 2008, she has been a proud and active corporate member of the Women's Dermatologic Society, where she has served on several committees with some of the leading dermatologists in the country. Currently, Nancy serves on this international organization's Service Committee, which oversees the award-winning Play Safe in the Sun program – promoting skin cancer prevention and sun safety to the public. She volunteers her time to educate children and families about skin care and sun protection. She is also a member of the American Society of Laser Medicine.