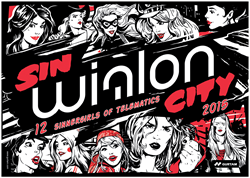 Adults also adore comic books, that's why Sin Wialon City will brighten up your day, and than the whole year.
(PRWEB) November 27, 2014
Every day fleet business owners face the consequences of their staff's sins. Drivers bypass toll roads, use vehicles for personal purposes, overload cars trying to earn extra and often drive as if they were F1 pilots.
Last year Gurtam calendar made a splash on the internet. It happened due to the provocative nude photos of company's female employees. In 2014 Gurtam tried to set the bar high and decided to take human virtues and vices as a basis for a new calendar. And as women and sins often go together, they came up with the main heroes quite easily.
To implement the idea Gurtam turned to an artist for help: the pictures were made by Anna Redko. Gurtam calendar tells a true story of fleet owners and drivers. The authors hope it won't simply decorate someone's wall but will be a reminder of what is good and what is bad.
The Languishing calendar heroines, each of which represents a telematics sin, should cause people to reflect on how they behave while driving.
Gurtam is an international software developer for GPS tracking, fleet management and M2M solutions. The company has offices in the United States and Eastern Europe and provides GPS tracking companies with a powerful fleet intelligence software platform Wialon (SaaS and server-based versions).