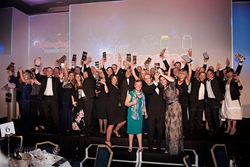 Alexir are a rare breed in British manufacturing today. They go out of their way to deliver real innovation, good quality and great customer service.
(PRWEB UK) 26 November 2014
The Alexir Partnership and the Peppersmith brand have been exceptionally successful this year in the assorted industry Packaging Awards. The Peppersmith clipstrip, a shelf ready packaging format, not only won the Shelf Ready Category in the Pro Carton ECMA Carton Awards but it also won Cartonboard pack of the year at the recent UK Packaging Awards 2014. It also picked up a Bronze Star Award in Structural Design at the Starpack Industry Awards. One judge on the Alexir Partnership's Peppersmith clipstrip said, "A well-thought through and simple solution - I love it!"
Peppersmith is a UK-based premium confectionery company specialising in xylitol based chewing gum, mints and sweets. When Boots, the retailer with over 2500 pharmacy stores throughout the UK, approached them wanting to stock their mints, Peppersmith had a challenge on their hands; Boots wanted the products but they had no room on shelf. In such an impulse-led category, it was vital Peppersmith found a way to merchandise their mints to fit around the existing Boots fixtures while achieving excellent stand out. Their brand is high quality, natural, fresh and bright so it was also vital that the display solution looked in-keeping with this tone. While a clipstrip felt like the answer, Peppersmith had never seen anything that could structurally fit their unique carton boxes or communicate their values. At this point they turned to their packaging suppliers, the Alexir Partnership. It was a tricky brief. There could be no plastic, as this did not fit in with the brand's premium, natural products. It would also have to fit securely onto the metal racking of the shelves and stay together through multiple consumer interactions. The only answer was a bespoke carton board design unique to Peppersmith.
Alexir's CAD designers devised a carton board clipstrip that used the mint boxes themselves to maintain rigidity in a 'step' design. Each box slotted into place, one above the other, with 12 in total. The product nestles neatly in its slot and is secured from all sides. Precision engineering was required throughout the process to make the clipstrip work; it had to be easy enough for the mint boxes to be packed into the strip at the factory, keep the packs securely in place throughout transit and be easy enough for the consumer to remove the packs in store. It was a difficult and delicate balance.
Alexir not only delivered this but went further, using only FSC sustainable carton board (to align with Peppersmith's values) plus high quality inks and precision colour matching to perfectly fit the look of the existing boxes. The clipstrip has been a big success with the brand owner, retailer and consumers.
Mike Stevens, Co-founder at Peppersmith said "Alexir are a rare breed in British manufacturing today. They go out of their way to deliver real innovation, good quality and great customer service. Cost is of course important but not entirely at the expense of everything else. Alexir have been great at getting the balance right."
Notes to Editors
About the Alexir Partnership
With proven reliability, excellent quality and innovative packaging solutions, the Alexir Partnership is the only UK owned company that can offer a complete turnkey solution to the brand owner.
For more information contact:
Claire Summersby Marketing Manager& Head of Innovation, The Alexir Partnership
E: csummersby(at)alexir(dot)co(dot)uk
W: http://www.alexir.co.uk
T: 01732 866681