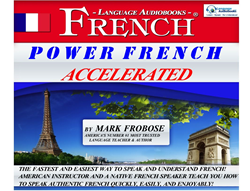 Champaign, IL (PRWEB) November 27, 2014
Mark Frobose, founder of Language Audiobooks.com announced today that his company's audio language programs will be on sale this Black Friday for $19.00 or less per digital on their website and on Audible.com.
According to Frobose, here are the reasons why most of his customers buy his programs:

Learn Languages Everywhere™…Extremely portable. Take these programs everywhere! On a smartphone, in a car. Even a one minute waiting period can teach anyone a language over time, from any location.
No guessing ever. The programs provide learners with instant English equivalents so individuals spend their time learning the language instead of guessing at meanings.
Expert American instructor explains everything in English while educated native speakers of the language you're learning teach people how to really speak their language with the right accent.
People learn to create and speak their own original sentences within the first 10 minutes of the program.
Best Memory Technique in the Industry. Always remember what you learn when you learn it.
Language Audiobooks' bestselling Power Spanish, Power French, Power Italian, Power Portuguese, Power Mandarin Chinese are all on sale now at Audible.com and at LanguageAudiobooks.com for only $19.00 or less.
Also on sale are Spanish for Travel and Eating, Easy Fast French for Travel and Eating, and Italian for Travel and Eating.
Spanish for Love and Dating and Clean French Slang are also very unique and innovative programs you are sure to enjoy and learn from.
Direct all inquires to: mark(at)languageaudiobooks(dot)com