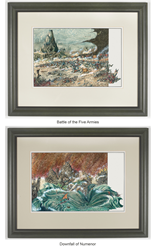 London (PRWEB UK) 26 November 2014
Few books have captured the heart and imagination on the scale of the tales of J.R.R. Tolkien, with their fandom unrivaled by few, fueled in recent years by Peter Jackson's epic movie adaptations of 'The Lord of the Rings' and 'The Hobbit'.
Couple this with one of the fantasy art world's leading and most respected illustrators, John Blanche (Warhammer, Fighting Fantasy) and one of the world's largest and oldest auction houses, Sotheby's, it creates the unique and unmissable proposition of owning a much anticipated piece of art that is sought after by millions of fans worldwide.
Importantly the illustration is believed to be the first ever depiction of the central battle in Tolkien's tale. The five armies are made up of the dwarves of Thorin Oakenshield, the men from Lake Town, the elves of Mirkwood, the dwarves from the Iron Hill, and the Orcs from the Misty Mountains. John Blanche's 'Battle of the Five Armies' depicts the pivotal moment in the battle of Tolkien's story, where the Eagles of the North enter the fight.
At 300 x 438mm, this impressively detailed fine ink, gouache and watercolour drawing captures the scene perfectly and was first published in 1979 in A Tolkien Bestiary, and later in John Blanche and Ian Millers own volume, Ratspike in 1989.
With the third and final installment of Peter Jackson's adaptation of The Hobbit due to be released in cinemas across the globe in December 2014, the timely sale of this illustration is sure to cast all Hobbit fans eyes firmly onto London's Sotheby's auction house.
The December 9th auction will also include a second illustration from John Blanche. Titled 'Downfall of Númenor', this 355 by 565mm fine ink, watercolour and gouache drawing is signed, dated, mounted and framed.
The illustration is a reflection of J.R.R. Tolkien's reference in the fourth part of The Silmarillion and in A Tolkien Bestiary, which includes Blanche's illustration as a double page spread, David Day notes that "Sauron falsely counselled the proud Númenóreans and corrupted them, and so the Númenóreans made war on the Valar in the Undying Lands. And, for this act, Ilúvatar caused the fair land of Númenor to burst asunder".
The two pieces are being auctioned off separately but this dynamic duo makes a stunning pair.
With the first two installments of 'The Hobbit' ( 'An Unexpected Journey' / 'The Desolation of Smaug') reaching a combined box office total of well over $500,000,000, the third and final installment is much anticipated by fans and will be given the sub-title of 'The Battle of the Five Armies', a title chosen over Tolkien's original title 'There and Back Again'.
This listing is being auctioned under category English Literature, History, Children's Books & Illustrations.