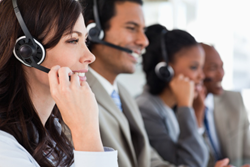 Atlanta, GA (PRWEB) November 26, 2014
1-800 Courier, a recognized leader in same-day delivery, distribution and transportation services, announces round trip same-day delivery services. 1-800 Courier strives to be the best choice for courier logistics and same-day delivery solutions nationwide. The courier makes the announcement in pursuit to enhance its value-added courier services, increase its current client sales and market same-day delivery for the holidays.
1-800 Courier's round trip same-day delivery services is being offered nationwide to all one-time users and account holders. The service involves clients that request an item or palletized freight to be delivered to one location, exchanged and dropped off at the origin point of the courier order. This value-added service provides the flexibility and level of convenience for time-sensitive packages, such as check payments, bill pay and receipt drop offs, gift exchanges, and signage documents.
The round trip service also assists law firms for documents that need filing, notarization, authentication, or alteration by a court, and then, delivered back to their location. Law firms can have filings and stamped copies returned to the origin within the same day. Clients can submit an order round trip delivery service via phone or online. If online, customers must create two orders, notating the first order as a "Round Trip". After which, a second courier request is made with reversed addresses.
The Chicago courier has express 2-hour window services and standard 4-hour window services per trip, which offers customers the ability to have their round trip performed within the same day and faster. For any specific requests for round trips, clients are recommended to contact 1-800 Courier to discuss their service needs. 1-800 Courier will continue to create premium services that add value for its' clients, especially for same-day delivery during the holiday season.
1-800 Courier is a premier same-day courier offering transportation, messenger and distribution services. From small packages to palletized freight, 1-800 Courier delivers fast. As a leader in the courier industry, the goal of 1-800 Courier is to perform optimal courier logistic solutions and superior customer service every time. 1-800 Courier provides same-day delivery successfully for over 1,500 clients, including Fortune 500 companies throughout the US.