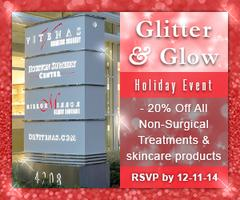 After 3 long years in the making, our secret project has come to a close and we are ready to open our doors and celebrate the night away.
Houston, Texas (PRWEB) November 28, 2014
Dr. Paul Vitenas, one of the most awarded cosmetic surgeons in Houston, will hold a Glitter & Glow Holiday Event for those in the area that would like to learn more about the cosmetic treatments offered at his practice. Glitter & Glow will take place on December 11, 2014, from 6:00 p.m. until 9:00 p.m. at Dr. Vitenas' new location in the heart of Houston at 4208 Richmond Ave.
"We want to wish you the warmest of holidays and hope that you will come and celebrate the season with us on December 11, 2014 from 6-9pm. After 3 long years in the making, our secret project has come to a close and we are ready to open our doors and celebrate the night away," said Dr. Vitenas.
While Glitter & Glow is a great opportunity to visit and get to know Dr. Vitenas and his highly trained staff, it is also a time where guests can learn more about how Mirror Mirror Beauty Boutique and its state-of-the-art cosmetic treatments. During the event, representatives from the latest aesthetic technologies will be on hand to answer questions from guests.
Additionally, guests who sign up for non-surgical treatments and purchase skincare products will receive 20 percent off during the event. Guests will also have the opportunity to receive a complementary Visia skin analysis. Visia is a computerized camera that analyzes a person's complexion and determines the percentage of sun-damaged cells, spots, pores, acne-causing bacteria and wrinkles found in the skin. Visia can also analyze the natural aging process of the skin.
Glitter & Glow will also afford guests an opportunity to tour Dr. Vitenas' new state-of-the-art facility where they can see firsthand the various treatments available in crafting the natural looks achieved by Dr. Vitenas. The event will also feature a photo booth so guests can show off their best looks. Guests will also be treated to complimentary valet parking. This fun holiday event will be full of delicious hors d'oeuvres, a wine bar and over $25,000 in raffle prizes. The event is expected to sell out quickly and have over 150 attendees.
Board certified by the American Board of Plastic Surgery, Dr. Vitenas is a graduate of Tulane University Medical School and completed a Craniofacial and Cosmetic Surgery Fellowship in Paris, France at Necker Hospital. He is a frequent national speaker and writer, which have earned him a national reputation among his peers. Dr. Vitenas specializes in breast augmentation, body contouring, and vaginal cosmetic surgery.
Most recently, Dr. Vitenas was honored with two awards from Vitals.com: the 2014 Vitals Top 10 Doctor Award and a Vitals Patients' Choice Award. These awards were bestowed to Dr. Vitenas for his superior patient rankings and feedback found on the Vitals.com website. Dr. Vitenas has also earned such prestigious awards as being one of America's Top Plastic Surgeons, Top Doc for Women, Houston's Top Doctors and Houston's Most Compassionate Doctors.
More information about Dr. Vitenas, please visit:
Vitenas Cosmetic Surgery
4208 Richmond Ave, Suite 200
Houston, TX 77027
281-484-0088