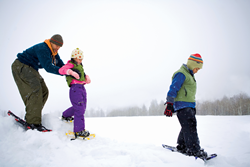 "We have seen a strong annual increase in gift memberships since we began offering them several years ago," says Matt Montgomery, Chief Marketing Officer for The Trustees. "So many of our members are seeking meaningful alternatives to traditional gifts."
(PRWEB) November 27, 2014
Green gift giving continues to be an increasingly popular trend among people looking for meaningful, experience-based, and/or socially responsible gifts. As you think about gift ideas for family and friends this season, including those who don't really "need" anything, The Trustees of Reservations – one of Massachusetts' largest conservation and preservation nonprofits – suggests the idea of a gift membership. A gift membership to a mission-driven organization you're passionate about like The Trustees is like giving someone the gift of a healthy, active lifestyle that keeps on giving all year long. It also allows The Trustees to continue to care for and protect irreplaceable, beautiful landscapes and landmarks across the state for all to enjoy.
"We have seen a strong annual increase in gift memberships since we began offering them several years ago," says Matt Montgomery, Chief Marketing Officer for The Trustees. "So many of our members are looking for creative and meaningful alternatives to traditional gift giving and have loved sharing the gift of membership to one of their favorite nonprofits with family and friends. In turn, they end up getting out together and enjoying our properties, programs and events – many of which are significantly discounted for members."
Whether through a guided hike on a crisp day up one of The Trustees' gorgeous mountain trails, going on a Nordic ski adventure through scenic woodland trails, a day spent volunteering at a favorite local Trustees site, or an evening out at an inspiring lecture or art show, a gift membership has benefits well past the holidays, encouraging members to spend quality time doing something healthy, active, and worthwhile. Starting as low as $47 for individual members ($37 for students and seniors, $67 for families), a Trustees' gift membership includes benefits such as:
•Free/reduced admission to 112 Trustees properties throughout Massachusetts (including popular destinations like Crane Beach in Ipswich, World's End in Hingham, the Old Manse in Concord, the Bryant Homestead in Cummington, Tully Lake Campground in Royalston,Naumkeag in Stockbridge, Cape Poge on Martha's Vineyard, andCoskata-Coatue on Nantucket);
•Discounted fees for the hundreds of events, programs, lectures and workshop The Trustees offer year-round, for all ages;
•Discounts on stays at Trustees' bed & breakfasts including The Inn at Castle Hill in Ipswich and the Guest House at Field Farm in Williamstown, or campgrounds including Tully Lake in Royalston or Dune's Edge in Provincetown;
•The Trustees Property Guide, a 231-page guidebook to the organization's 112 reservations — available exclusively to members;
•Regular monthly e-newsletters and a year's subscription to our award-winning, quarterly member magazine, Special Places, which will all keep you in-the-know and up-to-date on important conservation, preservation and cultural news, issues, programs and events;
•In addition, for every gift membership of $125 or above, gift recipients will also receive a special limited edition Trustees gift: a pair of To Go Ware Bamboo utensil sets perfect for picnics and/or sustainable dining.
Membership to The Trustees is tax deductible. For more details and to ensure holiday delivery, please order gift memberships by December 15 at: 978.921.1944 online at http://www.thetrustees.org.
The Trustees of Reservations (The Trustees)"hold in trust" and care for properties, or "reservations," of irreplaceable scenic, cultural, and natural significance for the general public to enjoy. Founded by open space visionary Charles Eliot in 1891, The Trustees is the world's oldest regional land trust and one of Massachusetts' largest conservation and preservation non profits. Supported by more than 100,000 members and donors and thousands of volunteers, The Trustees own and manage 112 spectacular reservations including working farms, historic homesteads and landscaped gardens, inns, campgrounds, community parks, barrier beaches, mountain vistas and woodland trials located on more than 26,000 acres throughout the Commonwealth. An established leader in the conservation and preservation movement and worldwide, The Trustees have also worked with community partners to protect an additional 34,000 acres in Massachusetts. With hundreds of outreach programs, workshops, camps, concerts and events held annually designed to engage all ages in its mission, The Trustees invite you to Find Your Place and get out and experience the natural beauty and culture our state has to offer. For more information, visit: http://www.thetrustees.org.