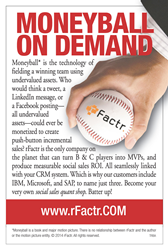 Charlotte, NC (PRWEB) December 01, 2014
rFactr announced its position as the leader in creating measurable sales results through social with a Moneyball advertisement on the front page of The Wall Street Journal. The campaign focuses on rFactr's proven track record of driving tangible sales results and delivering measurable social media ROI.
"Moneyball," said Richard Brasser, rFactr CEO, "is the technology of fielding a winning team with B and C players, essentially undervalued assets, by giving them a push-button way to seamlessly interface social media with their CRM system.
"Every company today needs a communication system for managing social conversations, much like they need a system for phone and email communication. Once a company has a true enterprise-class system for social, they can leverage that system to impact sales, employee advocacy, marketing and compliance. rFactr helps companies launch their technology and trains sales reps to engage prospective buyers, build relationships and create incremental sales."
rFactr chose to launch this campaign with The Wall Street Journal because it is a well-known and trusted news publication that offers the perfect setting for introducing a history of extraordinary results to companies that need a true social selling solution.
"By leveraging social communication in the sales process," said Brasser, "rFactr delivers faster conversions which assist sales representatives in preempting conversations with competitors, reducing cost of customer acquisition and creating a measurable increase in revenue."
About rFactrTM
rFactr enables its clients to provide sales representatives with the technology needed to leverage the power of social sales. Through the implementation of SocialPort™, its flagship product, and best-in-class social sales training, rFactr makes social selling easier and more effective for sales teams across a number of industries. rFactr serves a global market with solutions for enterprise clients looking to leverage an unfair advantage across their entire sales organization. To learn more, visit http://www.rfactr.com.