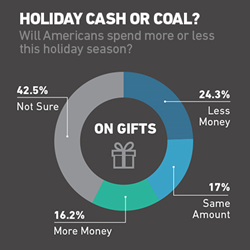 Our survey findings suggest that there is still a lot of room for improvement when it comes to building mobile shopping experiences.
New York, NY (PRWEB) November 25, 2014
Fluent, the industry leader in customer acquisition, today announced the results of a survey it conducted the weekend before Thanksgiving which found that more Americans say they'll spend less on holiday gifts and travel in 2014 than they did in 2013.
According to the survey of 994 American adults aged 25 – 54, 46% of women and 37% of men plan to spend the same or less amount of money on shopping this year than they did during the 2013 holiday season. Of those same respondents, 33% of men and 37% of women plan to spend the same or less on travel this year as compared to 2013. By comparison, only 16% of all respondents said they are planning to spend more on gifts and only 8.5% say they will be spending more on travel.
Other key findings from the survey include:

Digital dominates for researching gifts. Survey respondents said they'd be turning to a host of digital channels to do their holiday gift research, including online reviews (27%), social media (7%), and daily deals sites (8%). Meanwhile, only slightly more than 20% said they'd be doing their research in-store on their own or with the help of a live sales associate.
Mobile lags when it comes to purchasing. As much as digital dominates during the research phase of buying, offline still leads when it comes to actual purchasing, with 32% of respondents saying they'll buy in-store. 19% said they plan to make holiday purchases on a desktop, while only 6% will buy through a tablet and 3% via a smartphone.
Men are three times more likely to wait till the last minute to shop. While 28% of respondents plan to begin their holiday shopping in December, 18% of women and 19% of men will kick off their shopping on Black Friday, taking advantage of sales and extended store hours. However, 15% of men and 6% of women said they'd do their holiday shopping on Christmas Eve.
"E-tailers who aren't pulling out all the stops might need to brace themselves for a disappointing 2014 holiday shopping season as economic uncertainty causes consumers to tighten their purse strings as we head into the final weeks of the year," said Matt Conlin, President and Co-Founder, Fluent. "In addition, our survey findings suggest that there is still a lot of room for improvement when it comes to building mobile shopping experiences. More than 50% of web traffic is now mobile, so it's imperative to make consumers confident and comfortable when it comes to mobile commerce."
The access the full list of findings from Fluent's 2014 Holiday Shopping survey, download the infographic at Fluent's blog.
Survey Methodology
The Fluent 2014 Holiday Survey was conducted online within the United States by Fluent, Inc. from November 21-23, 2014 among 994 adults aged 25-54. Fluent's proprietary ad-serving technology includes a real-time survey module that was used to facilitate the data collection for this study.
About Fluent
Fluent is the industry leader in customer acquisition. The company's proprietary ad serving technology and its extensive publisher network enable marketers to acquire their best customers, with precision, at a massive scale. Leveraging big data and real-time interaction with consumers, Fluent has powered billions of profitable marketing opt-ins and other actions on behalf of more than 500 leading brands and direct marketers. The company is privately held and based in New York City. To find out more, visit http://www.fluentco.com.