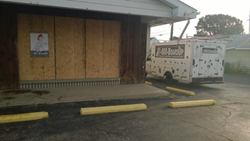 We were hoping for the best, but planning for the worst.
(PRWEB) November 25, 2014
In the aftermath of the Ferguson Grand Jury decision, 1-800-BOARDUP of St. Louis has experienced a dramatic increase in requests for Board Up and emergency services. "We were hoping for the best," notes Michael Hosto, President and Founder of 1-800-BOARDUP, an international franchise of construction companies that specialize in disaster and emergency response, "but planning for the worst."
Hosto notes that his St. Louis affiliates were up most of the night working with emergency professionals in securing structures that were either damaged by protesters, or were being protected from potential protester action.
1-800-BOARDUP serves public safety departments and insurance claims professionals all across North America. "We are committed to helping people in need. That is why we exist. However, sometimes we are asked to put our teams in harms-way by going into dangerous areas, and while our teams are highly trained emergency professionals that is something we just cannot do," said Hosto. 1-800-BOARDUP has made a commitment to its public safety partners to respond when called, but if it is dangerous, "our crews will either wait for the danger to pass or request a police escort to the area for protection."
Because property insurance policies generally do not pay for acts of terrorism and/or damage from acts of civil disobedience,1-800-BOARDUP team members will be required to get payment upfront on board all up jobs related to rioting.
"Our hopes and prayers are with everyone affected by this decision, and we hope that cooler heads will prevail in the future," adds Hosto. But if not, "We stand ready to respond."
About 1-800-BOARDUP:
1-800-BOARDUP partners with organizations who seek a better way to serve the needs of disaster victims. The company is staffed by thousands of trained disaster recovery professionals who are committed to provide the most comprehensive victims services available 24/7/365. It is a values-focused organization that provides comprehensive recovery services to victims of fires and other disasters. While each office is independently owned and operated, 1-800-BOARDUP is one of the largest franchises in America that specializes in disaster and emergency response.
1-800-BOARDUP is proud to be a 5-Bugle Corporate Partner of the International Association of Fire Chiefs and a corporate partner in the American Red Cross Disaster Responder Program.