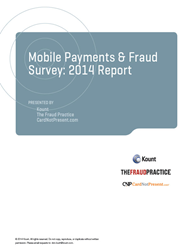 This research has become the industry standard each year for benchmarking fraud in the mobile channel.
Newburyport, Mass., Boise, Idaho, Sarasota, Fla. (PRWEB) November 25, 2014
The third annual Mobile Payments & Fraud Survey is now open for input from all members of the payments ecosystem. Last year, nearly 2,000 participants made the survey the largest of its kind in the world with responses from merchants, service providers, payment processors, acquirers, card associations and issuers. Leading online payments industry publication CardNotPresent.com, antifraud technology provider Kount and payments consultancy The Fraud Practice have partnered again to develop and distribute a survey that will continue to identify and provide insightful analysis of the most pressing issues surrounding the fraud associated with mobile payments.
The annual survey has become a benchmark in the mobile payment industry, taking an ongoing look at the development of mobile payments and how fraud affects the decisions of the numerous stakeholders. Some of the insights gleaned from merchants reported in last year's survey include:

66% of merchants surveyed now actively support mobile – up by 30% year over year
Nearly half of merchants have a dedicated mobile website
The number of merchants offering a mobile app for online shopping more than doubled to 54%
Nearly a third of all merchants consider mobile as riskier than standard e-commerce
The number of merchants who believe mobile-specific fraud prevention is increasingly necessary nearly doubled, accounting for almost a third of all merchants surveyed
"This research has become the industry standard each year for benchmarking fraud in the mobile channel," said Steven Casco, CEO of CardNotPresent.com and the CNP Expo. "The only way it has achieved that level of success has been the willingness of thousands of the most important players in the payments industry to take the time to share their expertise and experience through our survey. We're asking all merchants and service providers with payments responsibilities to contribute to the 2015 Mobile Payments & Fraud Survey so we can continue to provide the most relevant and actionable information in the industry about how fraud is affecting the fastest growing payment channel."
Participants who complete the survey will receive an advance copy of the results and be entered into a drawing to win one of five new iPad Air 2 tablets. Click here to take the survey.
About CardNotPresent.com
As one of the only sources of content focused solely on the growing card-not-present (CNP) segment of the payments industry, CardNotPresent.com is an independent voice generating original news, information, education and inspiration for and about the companies and people operating in the CNP space. The company's media platforms include the CardNotPresent.com portal, CNP Report, CNP Expo, and CNP Awards. Sign up for free to receive the twice-weekly CNP Report featuring comprehensive coverage of the CNP payments space at http://www.cardnotpresent.com/signup/
About Kount
Kount helps online businesses boost sales by reducing fraud and allowing them to accept more orders. Our all-in-one, SaaS platform is designed for companies operating in card-not-present environments, simplifying fraud detection and dramatically improving bottom line profitability. Merchants using Kount can accept more orders from more people in more places than ever before. For each transaction, Kount's "decisioning" engine analyzes hundreds of relevant variables and activity across the globe in real-time providing the most accurate fraud prediction available. Kount's intuitive business intelligence tools help merchants increase revenue opportunities in the future, thus boosting sales while reducing fraud. Kount is a single, turnkey fraud solution that is easy-to-implement and easy-to-use. Kount's proprietary technology provides maximum protection for some of the world's best-known brands. For more information about Kount, please visit [http://www.kount.com
About The Fraud Practice LLC
The Fraud Practice is a privately held US LLC based in Sarasota, Florida. The Fraud Practice provides training and consulting services on eCommerce payments, fraud prevention and credit granting. Businesses throughout the world rely on The Fraud Practice to help them build and manage their fraud and risk prevention strategies. For more information, please visit http://www.fraudpractice.com.