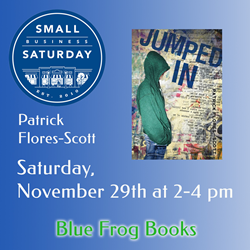 Howell, MI (PRWEB) November 27, 2014
With the holidays upon us now, Blue Frog Books in Howell, MI doesn't let up on it's commitment to local first. Starting with "Small Business Saturday" on November 29th, Blue Frog Books will host one national author, Patrick Scott-Flores, appearing 2-4 pm with his award winning book, "Jumped In", and two local authors, from 1-3 pm, Charles Strong with "Butterflies in Autumn", and "Tales of Evelea", and appearing at 3-5 pm is Jill Stodola with her book, "Cadavers and Cocktails". Small Business Saturday is nationally advertised by American Express and other organizations to help bring awareness to the importance of small businesses, their diversity of offerings, and their attention to service. When shopping at local small independent stores, it has been proven that more of those dollars end up in your community's circulation than when shopping at chains or on-line.
The events don't end there. Blue Frog Books will have many other events this month as well. A six author panel on December 5th with Wynwidyn Press. On December 6th, author, Jon Milan with his historical look at Grand River Ave. On December 14th, A "Paws for a Cause" event for the Friends of Livingston County Animal Shelter that will bring author Peggy Johncox and her dog Halle, with her children's book, and Beth Duman and her dog Charlie, with her dog training book. Anyone shopping between 12-4 on December 14th will automatically have 20% of their purchase donated by Blue Frog Books to FLCAS.
In addition, Blue Frog Photo Club will meet on December 18th, at which Blue Frog Books brings in a special guest each time. This meeting's special guest will be Richard Thompson with his book, "Visions of Michigan". On December 19th, local, award-winning artist and author team, Michael and Colleen Monroe will appear with their holiday classic, "A Wish To Be A Christmas Tree". Then, on December 20th, Blue Frog Books will welcome Howell High School graduate, Daniel Waltz, with the first in a new series of fantasy novels, "The Water Travelers." Blue Frog invites you to attend any of these events or offer suggestions for future events. Their schedule, print books, E-Books, and contact info are available on-line at their website bluefrogbooksandmore.com.
For further information and times please visit their event calendar here