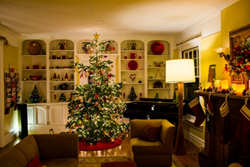 Napa, CA (PRWEB) November 25, 2014
The holiday season is here, and The Inn on First is getting into the spirit with new decorations throughout the house.
As part of their annual tradition following Thanksgiving and continuing through New Year's Day, The Inn On First is decking the halls and trimming the trees. They will have multiple trees throughout the house (one live and various ornamental trees), as well as holiday china to fill the dining room cabinet.
Everything is coming down off the shelves and walls, and all new items are going up. All of this makes The Inn on First a holiday wonderland, including the holiday village that is set up in the living room.
"For those wanting to enter the spirit of the holiday season, this is the place to be," said Jamie Cherry, co-owner of The Inn On First. "It is my favorite time of the year and I love to share it with all of the guests."
Guests should expect a bit of peppermint in the truffles awaiting them in their rooms, as well as a sampling of the Cherry Family Holiday Sugar Cookies (see Jim's Napa Blog to find the recipe at http://www.theinnonfirst.com/jims-napa-blog/).
Experience the holiday season at The Inn on First; call 707-253-1331 to book a room today.
About the company:
The Inn on First provides romantic getaways in the Napa Valley that will surpass all expectations. They can offer landscapes of rolling hills and beautiful vineyards of the entire Napa Valley. With a location that is one of the most sought after destinations in the country, the Inn and its rooms are the perfect complements to a Napa Valley experience and make for a romantic atmosphere for loved ones. The Inn on First is always committed to providing their guests with an experience unlike any other, providing them with the utmost care and service. For more information, please visit their website at http://theinnonfirst.com/.