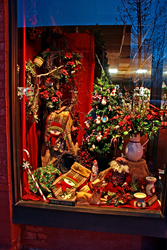 Small Business Saturday Nov. 29 reminds us, during the biggest shopping weekend of the holiday season, to support our small businesses.
Charleston, West Virginia (PRWEB) November 25, 2014
Celebrate big! Shop small.
Small Business Saturday kick-starts holiday shopping season
The holidays usher in the biggest shopping season of the year. Consumers can make a big difference in their communities when they "shop small," buying from local and small businesses. Small Business Saturday serves as a reminder to support our local shops. Positioned between traditional after-Thanksgiving "Black Friday" and Internet's "Cyber Monday," Small Business Saturday falls on Nov. 29 this year.
Small businesses represent a major factor in the economy of our country, state and community.
The U.S. Small Business Administration reports that small businesses employ an estimated 55 million of the country's private workforce
In West Virginia, small businesses represent 95.8 percent of all employers in the state. They employ more than half of the state's private workforce.
Find out more about West Virginia's small businesses, from retail to technical. Get the story as Director Kristina Oliver describes what the West Virginia Small Business Development Center does to help new businesses start up and established business expand.
Small towns show big community spirit with winter festivities
Winter gets a warm reception as small towns celebrate the holiday season in West Virginia. Events include train rides, songs and old fashioned parades down decorated main streets. Whether one is a stranger passing through town or next-door neighbor, everyone is invited to join the community and share in the festivities.
West Virginia Main Street focuses on economic revitalization of historic commercial districts. The Main Street West Virginia and West Virginia ON TRAC programs provide educational programs and technical assistance. Main Street West Virginia also coordinates with the National Main Street Center, a subsidiary of the National Trust for Historic Preservation.
Accredited Main Street communities are Charleston East End, Charleston West Side, Fairmont, Kingwood, Mannington, Martinsburg, Morgantown, Philippi, Point Pleasant, Ripley, Ronceverte and White Sulphur Springs.
The West Virginia ON TRAC cities are Belington, Beverly, Elkins, Kenova, Madison, Marlinton, Parkersburg, Parsons, Charles Town, Romney, Rowlesburg, Shinnston, Sutton and Wheeling.