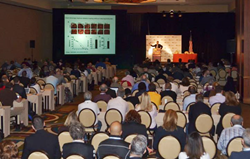 Desert Foot conference, is always great, keeps me updated on the new research on vascular study, medications, and treatment of diabetic wounds. I have been coming to the meetings for about 7 years now. A. Benally, DPM, New Mexico
Phoenix, AZ (PRWEB) December 02, 2014
The 11th Annual Desert Foot 2014 Conference, managed by PRESENT e-Learning.com, attracted a record showing of serious wound care experts from several countries, including Bangladesh, Canada, Italy, the Marshall Islands, Peru and 46 U.S. States this past week. What began as a VA DPM-focused meeting has expanded into a multidisciplinary conference including MDs, nurses, physical therapists, research PhDs, as well as many podiatry residents and students. This year's conference, held for the 2nd year at the Sheraton Phoenix Downtown, included a new multidisciplinary Wound Continuum of Care program. Attendees were addressed for the first time by Grand Sponsor, Smith & Nephew President Francois Fournier, who described the commitment his 150-year-old British company has to the U.S. podiatry profession.
The conference's highlight came when Chairman Robert Frykberg, DPM, MPH presented the 4th Annual Paul Brand Memorial Award to diabetic foot pioneer Alberto Piaggesi, MD from Pisa, Italy. The award this year was again sponsored by Osiris Therapeutics. The memorial lecture, "The Diabetic Foot Syndrome – Leaning Towards Pisa", was delivered by Dr. Piaggesi .
The Desert Foot 2014 Abstract Poster Competition had 69 submissions accepted this year. Winners in the Non-Resident category were 1st Place Randolph Fish, DPM for "Non-Surgical Treatment of Diabetic Toe Osteomyelitis with Bacteriophage", 2nd Place Robin Johnson, DPM for "Clinical and Economic Impact of Utilizing Dehydrated Human Amnion/Chorion Membrane Allograft for the Treatment of Chronic Ulcers", and 3rd Place Robert D Phillips, DPM for "Comparison of Torsional Stiffness of Orthotics Made From Different Materials". Winners in the Residents category were 1st Place Issac Bazan, DPM for "Retrospective Analysis Comparing Two Biologic Wound Dressings: Bilayered Skin Substitute versus Porcine Submucosa", 2nd Place Hannah Park, DPM for "The Use of Dehydrated Human Amniotic Membrane (dHACM) Allografts to Expedite Healing in Patients with Five Major Types of Refractory Non-Healing Wounds: Retrospective Cohort Study" and Lindsey Wilkes, DPM for "Keller Arthroplasty: The Appropriate Procedure for the Proper Patient".
Next year's Desert Foot 2015 Conference will take place November 18-20, 2015 again at the Sheraton Phoenix Downtown.
PRESENT e-Learning Systems is a leading medical education and communications company (MECC) for medical professionals and publishes educational programming and original content to over 130,000 members. Founded in 2004, PRESENT is the first company to combine online multimedia medical education with social networking, creating an online education community for healthcare professionals. PRESENT also hosts a series of five annual conferences attracting thousands of podiatrists, surgeons and healthcare professionals from around the world. The Arizona-based Desert Foot Conference, which was held in Phoenix this past weekend, was both the final and largest conference of the year.