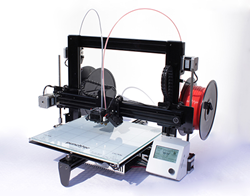 Falls Church, VA. (PRWEB) December 02, 2014
AM Patent Drawings & Graphics, LLC is expanding its services to include 3D printing. The graphic design firm that specializes in patent illustrations is now offering clients the capability to produce 3D model prototypes. Owner of AM Patent Drawings, Alfonso Martinez, states "This is a great added service as it allows for our clients to easily print prototypes of their inventions in a cost effective way." The firm uses the Connect XL model, a top of the line desktop 3D printer that is perfect for printing functional mechanical parts and products. The Connect XL has a build size of 12" x 12" x 7.9" - a good size for working prototypes. It prints with dual colors and with dissolvable filament for support structures. This service is valuable to inventors, manufacturers, engineers and other professionals looking to have high quality 3D prints of their product or invention. For information regarding pricing please contact the company. AM Patent Drawings is excited to help clients further their aspirations with the use of 3D printing.
About AM Patent Drawings & Graphics
AM Patent Drawings & Graphics, LLC is a graphic design firm that specializes in patent illustrations, trial graphics and now 3D printing services. Since its start in May, 2007 the company has expanded; with clients not only from the D.C. Area, but across the nation and internationally. Clients are drawn to AM Patent Drawings because of the quality of service it offers its clientele. The company prides itself in "providing quality graphic design services in a timely manner and at reasonable costs."
For more information contact Alfonso Martinez at 703-848-3503.