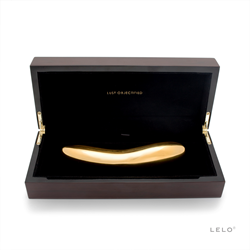 Stockholm/San Jose (PRWEB) November 26, 2014
Swedish sex toy brand LELO will offer up to a $3,000 discount on the world's most expensive range of sex toys, including 24-karat gold and stainless steel vibrators, over the Black Friday shopping period, the same sex toys reportedly owned by a host of celebrities including Beyonce and Jay Z.
LELO's LUXE range made from 24-karat gold and stainless steel includes the world's most exclusive vibrator, the 24-karat gold INEZ which retails for $15,000. It also includes gold Ben Wa balls like the ones featured in 50 Shades of Grey, that will normally set you back over $3,000 (save $600), plus the world's most distinguished gentleman's plug costing more than $2,500 (save $500).
To celebrate the holiday season, LELO will extend the discount across its whole portfolio of products on LELO.com, so if you have ever wanted to get your hands on the same gold vibrator, as reportedly owned by Beyonce and Jay Z, then you now have the chance.
Use code BLACKF at checkout on LELO.com from 00.00am on Thursday 27th until 11.59pm on Monday 2nd December and receive a 20% discount off your whole purchase and enjoy free shipping too.
Steve Thomson, LELO Head of Marketing said: "This is the first time in LELO history where we have offered a discount on the world's most exclusive sex toys, and what better way to show thanks to someone you love this holiday season than treating someone to a luxury gift in pleasure."
Visit http://www.lelo.com for more information.
All media enquiries please contact PR(at)LELO(dot)COM
LELO is the world's leading designer brand for intimate lifestyle products. On launching in 2003, LELO transformed the look, feel and function of how personal massagers were perceived, and now applies the same commitment to quality and innovation through luxurious bedroom accessories, massage oils, soy massage candles and a premium line of silk intimate apparel. LELOi AB is the Swedish company behind LELO, and also holds the PicoBong brand under the LELO group, where offices extend from Stockholm to San Jose, from Sydney to Shanghai.