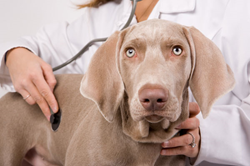 Our pet insurance plan reimbursed us $4,300, which is 10x what it costs us annually
Columbus, Ohio (PRWEB) December 15, 2014
Pet insurance is gaining popularity in America as dog and cat owners continue to be bitten by expensive veterinary treatment. Pet owners in the U.S. will spend over $15 billion on veterinary care in 2014 and that number is expected to top $16 billion next year.
Bayer HealthCare conducted a survey of 2,100 pet owners and 50% agreed the cost of veterinary care was much higher than expected. It's important to note that Bayer's survey included wellness and routine care visits, while the majority of sticker shock comes when a pet suffers a serious injury or has a life-threatening illness.
Pet health insurance can take the sting out of expensive veterinary care by reimbursing pet owners as much as 90% of the actual vet bills associated with accidents and illnesses.
For one Colorado family pet insurance saved them over $4,300 when their Labrador retriever, Magruff, was diagnosed with hip dysplasia.
"I purchased a policy through Petinsurancequotes.com for $34/month because I knew my wife and kids would want me to do anything for Magruff," explained Lou Braun. "Sure enough, about 18 months after purchasing our policy Magruff needed $5,200 hip surgery. Our pet insurance plan reimbursed us $4,300, which is 10x what it costs us annually."
Read Magruff's Full Story Here
The Braun's are just one example of thousands of pet owners who have benefited from insurance coverage. Today over 1 million American dogs and cats have coverage.
There are currently over 170 million domesticated dogs and cats in the United States but only 1% are currently insured. Compare that to the UK where over 30% of all dogs and cats are insured and Sweden where over 50% of pets are covered.
Petinsurancequotes.com has a mission to help insure as many American dogs and cats as possible and close the gap on our European counterparts. In addition to free quotes the company offers educational resources and comparison tools to help pet owners find the perfect plan for their pets.
And if a pet owner has questions or concerns about purchasing a policy they can ask one of the company's licensed pet insurance agents questions about coverage via Live Chat on the website.
With over 1 million quotes generated in a just a few short years the company is off to a good start and that is good news for veterinarians, pet owners and most importantly, the pets who get the treatment they need.
About Petinsurancequotes.com
Petinsurancequotes.com is America's first pet insurance agency. The company is licensed in all 50 states and offers pet insurance plans from the top providers including Petplan, Healthy Paws and Pets Best. Since being founded in 2011 Pet Insurance Quotes has generated over 1 million quotes for dogs and cats throughout America.