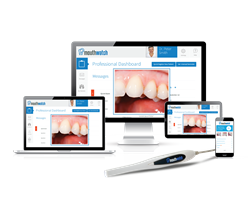 At $199 per intraoral camera, it finally makes sense to have one in every operatory.
New York, NY (PRWEB) November 28, 2014
Through the MouthWatch Intraoral Camera and MouthWatch Connect Patient Engagement Software, dental practices now have an exciting set of tools with which to present treatment needs and home hygiene instructions in a way that is convenient and effective, all while building trust and loyalty.
The MouthWatch Intraoral Camera is ideal for in-office use by dentists. MouthWatch Intraoral Cameras offer many of the same features of competitors that cost thousands of dollars more, plus each purchase includes US-based tech support, a 1 year warranty and satisfaction guarantee. MouthWatch cameras integrate easily with leading x-ray and dental imaging software systems, such as Dexis, Eaglesoft and many more.
MouthWatch Connect, an innovative software platform that motivates patients to accept and schedule treatment, will also be introduced at the Greater New York Dental Meeting on November 30th, 2014 at booth #3937.
Dental patients typically leave appointments and quickly forget the treatment and care recommendations made during their office visit. MouthWatch Connect allows dentists to share images, x-rays, videos and treatment plans with patients through a HIPAA-compliant, multi-platform software system. Furthermore, dentists can share cases with their network of specialists using Connect.
Now, dental patients can see and engage with their dentist – anytime, anywhere. Via any web browser, tablet or smartphone, patients can visualize the need for care, remember treatment proposals and easily schedule appointments.
Visual images are the most effective call to action for patients to get the dental care they need. MouthWatch Connect makes that happen for every patient in a practice, all for just $49 per month, per practice.
MouthWatch, LLC was formed with the mission to improve communication, dental care, education, and connection between dentists and their patients through teledentistry. MouthWatch connects patients to dentists, both in the office and anywhere.
If you'd like more information about MouthWatch, or to schedule an interview or product demo, please call Brant Herman at 877-544-4342 or e-mail brant(at)mouthwatchpro(dot)com or stop by Booth #3937 at the Greater New York Dental Meeting.