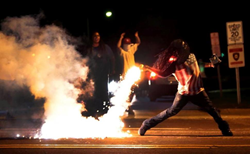 As the world's leading Patent Assistance Organization, it is World Patent Marketing's responsibility to promote new ideas and technologies related to law enforcement.
Miami Beach, Florida (PRWEB) November 25, 2014
In response to the protests in Ferguson, Missouri and the national debate surrounding the killing of a young man by the police, World Patent Marketing, the world's fastest growing Patent Assistance Organization, has continued its promotion of law enforcement inventions.
"Law enforcement has a tough job to do. They must fight crime and terror and create a safe environment for civilians to raise families and enjoy freedoms." according to Bill Flanagan, VP of Public Relations of WorldPatentMarketing.com, "As the world's leading Patent Assistance Organization, it is our responsibility to promote new ideas and technologies related to law enforcement."
Ever since the invention of the handcuffs, police have looked for ways to harness new technology in order to make their lives easier. The modern lawman has access to a range of high-tech devices like taser guns, car-mounted computers, and GPS trackers that once only existed in the realm of science fiction.
Here are four of the coolest inventions that might be standard issue for the next generation of crime fighters:
STARCHASE
The StarChase is a dart gun mounted to the grill of a cop car. When the officer gets within range of a fleeing vehicle, they simply pull the trigger and a sticky dart shoots out and attaches itself to the criminal's ride. Now the police can safely back off, making the criminal feel comfortable enough to drive at a sane speed, thus protecting pedestrians and other drivers on the road. When the tracked car stops, the police know exactly where to find it, and immediately converge on the lead-footed criminal's location.
PATROLBOT
When a police officer becomes disabled, it's tragic not just because both the officer and their family suffer, but also because the community at large loses a good cop. The officer still retains all of their training, experience, and understanding of law enforcement, but they aren't able to use it to protect the streets any more. But how do you harness an officer's skills without actually putting them on a beat?
That's where PatrolBot comes in. Using advances in tele-robotics developed the US military, injured officers will be able to control a robotic surrogate remotely. Officers who use it put on a virtual reality helmet to see through the robot's eyes and put on sensors to manipulate its limbs, giving police officers the power to scan the streets by controlling an automaton. According to project creator Jeremy Robbins, "With telebots, a disabled police officer will be capable of performing many, if not most, of the functions of a normal patrol officer – interacting with the community, patrolling, responding to emergency calls, issuing citations."
MOBILE PLATE HUNTER
Recovering stolen cars and catching wanted felons driving down the street is difficult for police officers, because it's not like they can read every single license plate they come across, right? But thanks to the Mobile Plate Hunter 900, they don't have to.
In this sophisticated system, a camera is mounted to either side of the police car. Whenever a license plate comes in sight on the lens, it scans the license and checks it against a database. If the plate numbers come back as wanted, the police officer receives an alarm telling them to pull the car over.
It looks like car thieves of the future will sweat extra hard every time a cop car pulls up behind them.
SHOT SPOTTER
It's a story that most police veterans are already familiar with. They respond to reports of shots fired, but when they arrive at the location, they can't track down exactly where the gunshots came from. They conduct a few interviews, do a sweep of the area, and simply file a report of the incident without any clues of where it happened or who could be responsible. The ShotSpotter hopes to change all that.
ShotSpotter starts by installing carefully-placed acoustic sensors around a city. When a gunshot goes off, the sensors not only detect it, but triangulate its approximate location by analyzing the volume of the shot. The police are immediately notified, and can be at the right place within minutes. Speedier reaction times by law enforcement means safer streets and less gun violence.
About World Patent Marketing
World Patent Marketing is the world's fastest growing Patent Assistance Organization (PAO). World Patent Marketing specializes in helping inventors with their patent application and related needs for an affordable price. The company and its employees are well known in the industry for knowledge and expertise in patent research, patent filings, patent searches, invention studies, utility patents, design patents, PCTs, European Union Patents, manufacturing, licensing and many more related fields. Free evaluation services are available at World Patent Marketing. World Patent Marketing employs and contracts with over 350 people across four continents. In addition to the United States, it has a presence in Spain, Mexico, India, the Philippines and the United Kingdom.
World Patent Marketing Achievements
World Patent Marketing is the only patent assistance company in history to be awarded a five star review rating from Google, Trustpilot, Shopper Approved, Customer Lobby and ResellerRatings.com. World Patent Marketing has received accredited status and is an A Rated Member of the Better Business Bureau. World Patent Marketing is also a proud member of Dun and Bradstreet, the US Chamber of Commerce, the Association for Manufacturing Excellence, and the International Licensing Industry Merchandisers' Association (LIMA).
World Patent Marketing in the News
(1) The appointment of Matthew G. Whitaker, former Iowa US Attorney and Republican candidate for United States Senate, to the company's advisory board. Whitaker was appointed June 15, 2004 by President George W. Bush. Whitaker resigned in November 2009 following the appointment and confirmation of Nicholas A. Klinefledt, who was appointed by President Barack Obama.
(2) Former Iowa US Attorney Matthew Whitaker of World Patent Marketing Announces Thanksgiving Day Social Innovation Award