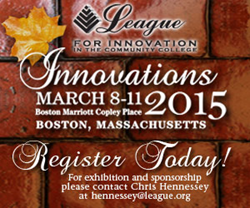 (PRWEB) December 01, 2014
The League for Innovation in the Community College is proud to announce the 17th annual Innovations conference. Innovations 2015 will take place in Boston, MA, March 8-11, at the Boston Marriott Copley Place.
Innovations is the premier event for professionals dedicated to improving organizational teaching and learning, and discovering new approaches for enhancing the community college experience. The conference provides a tremendous forum for collaboration among academic experts and leading community college professionals, while granting participants exclusive access to the most inventive and thought-provoking programs from around the world.
At Innovations, colleagues showcase their model programs, share lessons learned, and look to the future by experiencing a wide array of new ideas through five conference streams:

Learning and Teaching
Leadership and Organization
Workforce Preparation and Development
Student Development and Success
Basic Skills and Developmental Education
The early registration deadline for Innovations 2015 is February 6, 2015. Register by this date to qualify for the lowest rate. Group registration and member discounts are also available.
For additional information about the Innovations conference and to register, visit http://www.league.org/i2015/.
About the League for Innovation in the Community College
The League for Innovation in the Community College is an international, nonprofit association dedicated to catalyzing the community college movement. The League hosts conferences and institutes, develops print and digital resources, and leads projects and initiatives with more than 800 member colleges, 160 corporate partners, and a host of other government and nonprofit agencies in a continuing effort to make a positive difference for students and communities. Information about the League and its activities is available at http://www.league.org/.