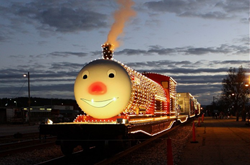 North Louisiana (PRWEB) November 25, 2014
The Louisiana Holiday Trail of Lights is eight partner cities - Shreveport-Bossier, Minden, Monroe-West Monroe, Natchitoches and Alexandria/Pineville - in north Louisiana. The Trail, which spans from I-20 east to west and I-49 north to south, runs from November to December and offers family activities such as ice-skating, fireworks, holiday exhibits, shopping, and special events.
For the weekend of Nov. 29, the Trail is offering something for everyone in all of the cities along the Trail. In two of the cities, The Trail will be hosting the KCS Holiday Express. On Nov. 29, the train will make one of its first stops in Monroe-West Monroe at the downtown Monroe train yard, located at 100 DeSiard Street. On Nov. 30, The Express will be cruising down to Alexandria/Pineville for the evening at the KCS Railyard in Pineville, located at 910 Melrose Street. The train experience is free for everyone and Toys for Tots will be collecting donations for children in the area.
In historic Minden, visitors can walk through downtown and view the Lights Before Christmas. This beautiful display includes life-sized German nutcrackers lining the streets and hundreds of lights illuminating historic downtown at night. Be sure to check out Christmas at the Dorcheat Bayou Museum to see displays of the history of the small town while getting in to the holiday spirit with images of Christmas past.
Shreveport-Bossier will be having an exciting weekend with the opening of Christmas in Roseland, which will run every Friday through Sunday until Dec. 21 and encore nights on Dec.22 and 23. Christmas in Roseland, located at the Gardens of the American Rose Center, is celebrating its 31st year bringing joy to the visitors of Shreveport-Bossier. This year, they have added even more twinkling lights to the already thousands that they display throughout the garden. The Holiday Fashion and Shopping Expo, 10 a.m.-7 p.m. on Nov 29, welcomes guests for a one stop shop event to purchase all their Christmas gifts. Find unique gifts, handmade baskets, and much more at this annual event.
For Christmas shopping, be sure to stop by the Fleur de Lis Arts and Crafts Show in Natchitoches. On Nov. 29 from 9 a.m. - 5 p.m, the Natchitoches Events Center will be filled with over 100 vendors with a wide variety of items. Admission is complementary to the event and parking will be available.
If you are looking for a day full of fun, be sure to check out Christmas at the Rivermarket in Monroe-West Monroe. From 10 a.m. - 4 p.m., visitors can dine on local fare, shop from local vendors, and listen to live music. At 2 p.m., the Rivermarket will be hosting the first annual Dachshund Dash, a race just for the foot-long, four-legged friends. As dusk comes, be sure to head to Antique Alley to see the dancing lights that line Trenton Street.
For those looking to get involved in the arts, Alexandria/Pineville is hosting one of the first Nutcracker performances on the Trail this year. The Red River Dance Company will be putting on its annual performance at 7 p.m. on Nov. 29 and an encore performance at 2 p.m. on Nov. 30. The ballet will be held at the Coughlin-Saunders Performing Arts Center and tickets can be purchased at the box office.
For more information on holiday events and vacation planning, please visit http://www.holidaytrailoflights.com