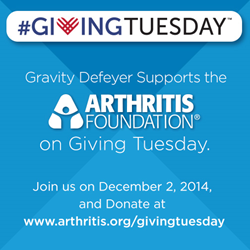 Los Angeles, CA (PRWEB) November 26, 2014
On December 2nd, 2014, Gravity Defyer joins #GivingTuesday with The Arthritis Foundation, to raise awareness around the important role donations play in the ability to continue giving breakthroughs. #GivingTuesday is a national day of giving back. Charities, families, businesses, community centers, and students around the world will come together for one common purpose: to celebrate generosity and to give.
This year, Gravity Defyer will participate as a sponsor of The Arthritis Foundation and will match all gifts up to $15,000 making each donation more impactful. Gravity Defyer is a wellness shoe company whose mission is to help every adult achieve new levels of performance, protect their bodies and live free of pain. A large percentage of Gravity Defyer's customers have Arthritis and were in need of comfortable shoes; they found that relief in Gravity Defyer's patented VersoShock ® spring technology.
The Arthritis Foundation works hard to make sure they are giving back to the arthritis community each and every day. They're fighting to make new strides in the search for a cure.
"On #GivingTuesday, we ask you to join us in this fight and make a donation to help find a cure for America's leading cause of disability." –Arthritis Foundation
For more details about the #GivingTuesday movement, visit the #GivingTuesday website (http://www.givingtuesday.org)
For more information on Gravity Defyer and their mission to help every person improve performance, protect their bodies and live pain free, visit their website (http://www.GravityDefyer.com)
For more details about The Arthritis Foundation and there breakthroughs, visit their website (http://www.http://www.arthritis.org)