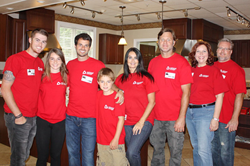 I've always loved North Florida, and I'm very excited to bring our family's quality approach to homeowners in the Jacksonville area. -Jared Mellick
Orlando, FL (PRWEB) November 28, 2014
In line with its expansion into the Jacksonville market, Universal Roof has launched not only its new Jacksonville-based residential website, but has also revamped its other two sites for its Orlando-based residential contractor site Universal Roof & Contracting as well as its Orlando-based commercial contracting company's site, Universal Contracting. The new, fully responsive websites can now resize and reconfigure automatically according to the device of the user.
"We're excited about the website because it gives consumers a great way to get their home improvement questions answered easily from the comfort of their couch. Good information is hard to find, and this gives them another good resource for their home improvement needs."
________________________________________________
Universal Roof & Contracting - Jacksonville
________________________________________________
From the company founders to each of member of the growing team, personal integrity and high standards are paramount.With a mission to provide superior construction services to the communities they serve, Universal Roof & Contracting strives to add value for clients through innovation, foresight, integrity and aggressive performance – and to serve with character and purpose that brings honor to God.
Founded in 1993, Universal Roof & Contracting has steadily grown in Florida and has now expanded to Jacksonville. In 2008, the torch was passed from father to son, and Jared Mellick assumed the primary leadership role as company President.
The new Jacksonville location of Universal Roof & Contracting serves the greater Jacksonville area with the same quality residential and commercial services as its Central Florida location and specializes in roofing and siding.
The Jacksonville office is fully staffed with administrative, estimating and production teams and is overseen by the company CEO's grandson, Brandan Molthan. Making a positive impact on Northeast Florida residents through continued commercial construction, expanded residential home improvement services and regular community involvement, the associates consider it an honor to serve with excellence.
Jared and his father Ken's long-time running Central Florida home improvement radio show, "In the House with Ken and Jared" is now syndicated in Jacksonville on Saturdays, 9am-10am at NEWS 104.5FM WOKV. Jacksonville general manager, Brandan Molthan, often co-hosts with Ken and Jared as they use their expertise to offer home improvement advice to callers each week.
_______________________________________________
Universal Contracting Community Works
_______________________________________________
The Universal Roof & Contracting family has always contributed to the improvement of the lives and circumstances of those around them. From food donations to veteran benefit programs, family members and employees alike have partnered over the years with community projects to impact area residents in a positive way.
Now, as a growing company, Universal Roof & Contracting has established the "Universal Contracting Community Works" division with hopes to accelerate their efforts to see restoration, healing and progress come to the lives of greater Orlando area residents through prayer and the purposed works of their employees and associates.
______________________________________________
About Universal Roof & Contracting
Jared Mellick and his father, Ken Mellick are the owners of Florida's premier construction company, Universal Roof & Contracting, a family-run business which has been serving Florida's homeowners for more than 20 years. Universal Roof also recently expanded their services into the city of Jacksonville. Services include free roof inspections, free no-obligation roof estimates, roof repair, roof replacement, new roof, exterior siding, windows, and home improvement, including kitchen and bath remodeling. Jared and Ken also host a local radio home improvement and construction talk show on popular Orlando talk radio station WDBO (FM 96.5) and WOKV (FM 104.5) in Jacksonville called "In the House with Ken & Jared."
For more information on Universal Roof & Contracting and its services visit http://www.universalroof.com