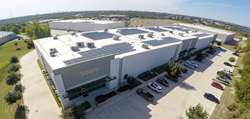 "There has never been a better time for commercial entities to make this kind of investment," says Andrew McCalla, President & Founder of Meridian Solar
Austin, Texas (PRWEB) December 02, 2014
International Biomedical, a medical device company specializing in neonatal products, is now equipped with 227 kW of solar energy at its Austin location. Meridian Solar, a leading solar photovoltaics developer, was responsible for the development, engineering, procurement, and installation of the system.
"International Biomedical had three objectives when deciding to procure solar energy," says Facilities Manager, Alan Segars, "reduce operating expenses, create energy independence, and maintain the company's commitment to social responsibility." With the help of federal, state, and local incentives, International Biomedical's new solar investment will have a four year payback and will significantly cut back on electricity bills.
Beyond the benefit of saving on energy costs, International Biomedical will realize environmental savings from day one. The 227 kW system will have an annual production of 320,000 kWh each year of operation. To put that in perspective, 320,000 kWh/year is equivalent to annual greenhouse gas emissions from 47 cars or 80 tons of waste sent to landfill. This production is also comparable to carbon-dioxide emissions from 30 homes' electricity use for one year. "We are excited to be self-reliant in terms of energy and an added bonus, it will decrease our carbon footprint on the environment," explains Mr. Segars.
"There has never been a better time for commercial entities to make this kind of investment, and the positive cash flows that International Biomedical will see from its new solar photovoltaic system will free up capital for its fundamental corporate mission of providing groundbreaking technology in the neonatal space, all while practicing corporate responsibility," says Andrew McCalla, President and Founder of Meridian Solar.
About International Biomedical: International Biomedical® is a global medical device company dedicated to the development of neonatal products. The company researches, markets and produces innovative devices designed to provide unique solutions for infant and neonatal care. For more information, visit http://www.int-bio.com
About Meridian Solar: Headquartered in Austin, Texas, Meridian Solar specializes in the development, engineering, construction, and financing of high-quality solar electric generation projects. Since 1999, Meridian Solar has designed and built more than 600 installations with an installed capacity of over 40 MW across 15 states. For more information, visit http://www.meridiansolar.com