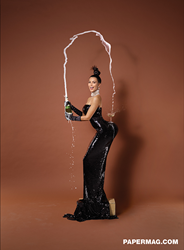 The duel benefit of a smaller waist and a bigger butt gives the dramatic contrast that most people find appealing.
Las Vegas, NV (PRWEB) November 27, 2014
"Baby got back," says Sir Mix-a-Lot in his 1992 hit song that swept the nation making big butts appealing to the masses. Kim Kardashian has officially taken the torch to lead this charge into a future with more big butts.
MyShape Lipo, a specialty liposuction clinic located in Las Vegas has seen a dramatic increase in demand for the Brazilian Butt Lift since the photos of Kim hit the internet. They seem to have solidified the trend and have added fuel to the fire that burns strong with women today.
The Brazilian Butt Lift offers the natural enhancement of transferring the patient's own fat to accomplish a larger, rounder, totally natural looking butt. This procedure completely eliminates the use of implants for augmentation. The fat can not only be injected into the buttocks, it can also be transferred to the breasts, face and hands for natural enhancements.
"This is a great procedure and has become very popular over the past few years," says Trevor Schmidt PA-C, the liposuction specialist and owner of MyShape Lipo. "Women have been asking for this for years, it's nice that we can now offer such great results and a real alternative to implants."
The procedure is fairly simple and can be done entirely under local anesthesia, while the patients is awake. The area is completely numbed and well tolerated by patients. Through liposuction unwanted fat is removed, then transferred directly to the buttocks.
"Women are ecstatic at the idea that they can remove fat from one area and move it to the butt or the breasts," says Schmidt. "The duel benefit of getting a smaller waist and a bigger butt gives the dramatic contrast that most people find appealing."
Kim claims that she has not had any cosmetic procedures, and has even had an x-ray to prove that there is no implant in her butt. An x-ray would show an implant, but would not show if she had a fat transfer. We may never know if Kim has had a procedure, but she looks great either way.
The Brazilian Butt Lift offers very natural results since it is one's own fat used for the enhancement. There is minimal risk of rejection or need for revision surgery as there is for implants. The new butt looks and feels as if it were the original butt, only bigger.
"I love my new butt," says DJ Lady G and MyShape Lipo patient. "The whole process was so easy and the staff at MyShape are awesome. My confidence is bursting and I can't stop looking in the mirror to see my new body. I'd recommend this procedure to anyone who is uncomfortable with their current shape."
About MyShape Lipo
MyShape Lipo is a premier liposuction clinic located in Las Vegas. Patients fly in from around the globe for their specialized services and affordable prices. Trevor Schmidt PA-C, the specialist, has performed over 15,000 liposuction procedure and is considered an industry leader. They offer liposuction, fat transfer, laser skin tightening and cellulite reduction services. For those who lack confidence because of their body shape, take the first step today and call 702-818-5476 for a complimentary "Body Shape Analysis," which can be done in person or via the phone.