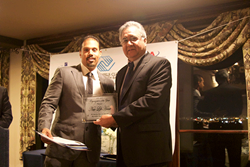 Unity + Recovery + Service = Love
Los Angeles, CA (PRWEB) November 25, 2014
New Life House was recognized for their dedicated service to the affairs of the community and for the civic pride demonstrated by numerous contributions for the benefit of all the citizens of Los Angeles County. New Life House created their "LOVE Campaign," as a way to give back to the community in which they reside. They began their work with the Boys and Girls Club in 2013. Under the banner of LOVE, they hosted a Thanksgiving turkey drive, a Christmas tree giveaway with decoration baskets and a toy drive for 200 needy children.
New Life House felt honored to be recognized at the Keystone Gala Awards dinner and looks forward to raising money for another toy drive this holiday season with the Boys and Girls Clubs of the South Bay. New events are being planned for 2015, when the recovery community will celebrate thirty years of helping young men recover from drug and alcohol addiction!
Young men between the ages of 18 and 32 come to New Life House to recover from drugs and alcohol. They arrive with no direction and a sense of entitlement. New Life House has found that a life built on service is the best ammunition to combat addiction to drugs and alcohol. "As human beings we are relationship focused, connection is our touchstone to living a healthy and happy life. When we give back to those in need, we create a ripple effect…it feels good to care for others…we complete the circle…"
New Life House believes that change and recovery occur as a result of living in a peer-centered community where young people are held accountable. "This is a process that cannot be side stepped; being accountable is essential and ultimately the saving grace for a drug addict," says New Life CEO Mike Joly. To read more about New Life House's LOVE campaign check out their website.