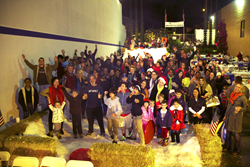 Montrose, CA (PRWEB) November 26, 2014
Montrose Travel held their 7th annual "Snowpalooza" on Friday, November 21, 2014. Since President Joe McClure first envisioned the event in 2008, it has grown to be one of the most cherished celebrations for the company. The top travel agency once again ushered in the winter by bringing snow to Southern California and welcoming employees and their families to partake in the festivities. While always promoting a strong work ethic, the family-owned Montrose Travel also understands the importance of camaraderie, family and of course, fun. Snowpalooza has proven to be a wonderful way for the company to give back to their employees with a celebration that brings them together outside of the office in a fun, family-oriented environment.
The festivities began at 6pm with music, food and an enormous mound of snow. Montrose Travel brought 30 tons of snow into the parking lot between their Corporate and Leisure buildings to create a 12-foot hill atop stacked bales of hay. Tables and chairs with an impressive spread of food and refreshments for the 250 attendees surrounded the man-made bunny slope. Employees and their families flocked to the snow for some good old-fashioned fun. Sledding and snowball fights ensued, delicious hot chocolate was poured, and fire pits were provided for roasting marshmallows or escaping the cold – a true winter wonderland. Passersby couldn't help but stop and stare at the sight in amazement. The laughter heard from several blocks away was a true testament to the spirit of this wonderful event.
"We have always considered every member of our team as a member of our family," states Joe McClure. "What makes this family event so wonderful is seeing the smiles on all the kids' faces and watching many of them play in the snow for the first time. Creating memories that last a lifetime is why we do the things we do. Family is everything to us."
ABOUT MONTROSE TRAVEL
Celebrating 56 years in business, Montrose Travel, a family-owned travel management company, has grown from 14 employees in 1990 to more than 200 today and is now firmly established as a Top 50 Travel Management Company and a Top 5 Host Agency nationwide at $250 million in sales. Montrose Travel strives to provide the highest quality services and most complete vacation, corporate travel, loyalty and group travel management solutions for its customers and home-based travel agents. Montrose Travel "will be here tomorrow to back up our promises of today!" Montrose Travel can be reached at 1-800-MONTROSE (666-8767) or by visiting http://www.montrosetravel.com. Visit Montrose Travel's Corporate Division at http://www.montrosecorporatetravel.com or call 1-800-766-4687. Home-based independent travel professionals may visit http://www.MTravel.com, email epeters(at)montrosetravel(dot)com, or call 1-800-870-5799. CST#1018299-10
# # #