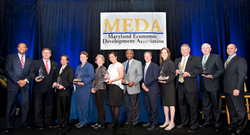 Baltimore, Maryland (PRWEB) November 26, 2014
The Maryland Economic Development Association (MEDA) is now accepting submissions for the tenth annual MEDA Awards, which, sponsored by Miles and Stockbridge P.C., celebrate economic development excellence in Maryland. "The MEDA Awards recognize the individuals, programs and projects that bring economic prosperity to the state. We encourage our members to nominate the individuals, programs and businesses that are making a positive economic impact in the state of Maryland," said Pam Ruff, executive director of MEDA.
MEDA members can nominate private-sector businesses that have made a positive impact on Maryland's economy for the Economic Development Project Award, while programs that foster best practices in all areas of economic development can be nominated for the Economic Development Program Award. The Economic Development Marketing Award honors organizations that have achieved significant results from a marketing initiative, including economic development advertising, marketing and public relations campaigns.
MEDA members may nominate individuals for one of two awards, including the Hall of Fame or Volunteer of the Year awards. The MEDA Hall of Fame Award recognizes those who have made a significant contribution to the economic development profession in Maryland, while the Volunteer of the Year Award spotlights those who have volunteered their time and talent with an economic development organization.
Deadline for entries is December 5, 2014. Winners will be announced on April 27 at the MEDA Annual Conference in Cambridge, Maryland. Submission guidelines and additional information about the 2015 MEDA Awards can be found online at http://www.medamd.com.
About MEDA
MEDA enhances the knowledge and skills of its members and encourages partnerships and networking among those committed to bringing jobs and investment to Maryland. In addition to quarterly conferences, members have access to opportunities, discounts and scholarships for professional development and can participate in awards programs that recognize the best economic development projects, programs and marketing efforts in the state of Maryland.
MEDIA CONTACT:
Sandy Sponaugle
301-358-9255
sandy(at)MEDAmd(dot)com
http://www.medamd.com