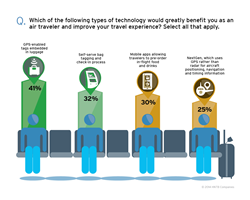 Airplanes, airports, luggage and mobile phones embedded with GPS technology are going to make everyone smarter and more connected within air travel.
Kansas City, Mo. (PRWEB) November 25, 2014
Leading up to the start of the traditional holiday travel season, a new America THINKS survey from HNTB Corporation finds many of the nation's air travelers are hopeful that technology advances just over the horizon soon will improve their airport experience.
"Airplanes, airports, luggage and mobile phones embedded with GPS technology are going to make everyone smarter and more connected within air travel," said Laddie Irion, HNTB national aviation market sector leader. "By anticipating future technologies and processes that are on the verge of becoming a reality, airport authorities can prepare now to adequately respond to the opportunity to make it easier and more enjoyable for travelers and more efficient, growth oriented and profitable for businesses in the industry."
Enhancing air travel through technology
Nearly half (46 percent) of air travelers believe that advancements in security and technology will alter how quickly passengers get through airports in the next five to 10 years. That includes getting through lines and passing through customs more quickly.
Tom Rossbach, AIA, ACI, HNTB director aviation architecture, said "In the not-too-distant future, airline agents in airport terminals will be a thing of the past. Passengers will check in and tag their bags themselves, and many already are retrieving boarding passes on their own through the Internet. That means the way we design terminals will change as well."
"Much of our focus within the terminal will be on innovating around the concept of a more informed passenger," Rossbach said. "Rather than banks of monitors and silos of stand-alone information kiosks, travelers – as well as airports and airlines – will have access to integrated systems that help improve passenger flow by keep everyone informed of flight status, overbookings and even food orders placed prior to boarding."
Many Americans say they would greatly benefit as air travelers from having more control over their bags through a GPS-enabled tag in their luggage (41 percent), which would link the bag to its owner, or a self-serve bag tagging and check-in process (32 percent).
A mobile app that allows passengers to place their in-flight food order ahead of time is seen by 3 in 10 (30 percent) Americans as a valued traveling perk. One quarter (25 percent) believe NextGen, which allows pilots and air traffic controllers to use GPS technology rather than radar for positioning, navigation and timing information, will be a big benefit to them as air travelers.
"NextGen represents a tremendous opportunity to make modern air travel safer, more secure and more reliable," Irion said. "Much like other technological advancements, as we are able to increase the number of airplanes – and passengers – that can be safely and efficiently managed in flight, airports need to prepare for similar increases in terminal and gate traffic."
Waiting most frustrating
Much of this technology will address what air travelers' say is their biggest frustration: waiting, whether that's braving lines at the airport (43 percent) or sitting on the tarmac before take-off (21 percent). Far fewer are most bothered by the chaos or confusion created by congestion at the baggage claim (12 percent) or a lack of clear signage telling them where they need to go (9 percent).
This likely is why a majority (53 percent) of U.S. fliers agree that, in order to cut wait times, ensure safety and improve the travel experience, airports need to change the way passengers check-in, go through security and claim their bags.
About the survey
HNTB's America THINKS national air travel survey polled a random nationwide sample of 1,013 Americans Nov. 11-17, 2014. It was conducted by Kelton, which used an e-mail invitation and online survey. Quotas were set to ensure reliable and accurate representation of the total U.S. population ages 18 and over. The margin of error is +/- 3.1 percent.
About HNTB
HNTB Corporation is an employee-owned infrastructure firm serving public and private owners and contractors. Celebrating a century of service, HNTB understands the life cycle of infrastructure and addresses clients' most complex technical, financial and operational challenges. Professionals nationwide deliver a full range of infrastructure-related services, including award-winning planning, design, program management and construction management. For more information, visit http://www.hntb.com.