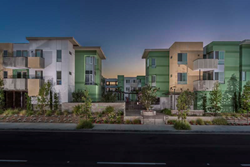 San Diego, California (PRWEB) November 26, 2014
The USGBC® certifies Arbor Green, LEED Platinum®. Developed by Affirmed Housing, Arbor Green is located in Carson, California, and features 40 one, two, and three bedroom apartments. An affordable community, Arbor Green has been built to be a virtually net zero community and features numerous green aspects including approximately 120 kW photovoltaic solar system, solar water heating system, low flow fixtures, recycling chutes, car chargers for electric vehicles and dedicated parking for efficient vehicles, to name a few. The highly efficient community is a product of the collaboration by Affirmed Housing, Partner Energy, Withee Malcolm Architects and many more.
James Silverwood, President of Affirmed Housing, states, "We are very pleased to be awarded with this title. Arbor Green is an innovative and pioneering community worthy of emulation. Affirmed Housing's second virtually net zero, LEED Platinum® community, I am very proud of the effort and commitment of the design team in development of this project."
Headquartered in San Diego, Affirmed Housing is dedicated to improving and sustaining the viability of California through the development of affordable housing. Affirmed enhances communities and our environment by building professionally-managed, high-quality, green, multifamily housing. For more information, visit http://www.affirmedhousing.com.