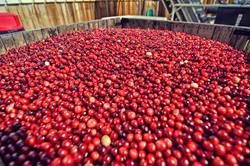 This USDA purchase not only improves the economic outlook for one of our nation's most historic agricultural sectors but increases access to consumers across the U.S. ~ Scott J. Soares, Executive Director, CMC
Wareham, Massachusetts (PRWEB) November 26, 2014
A collaborative effort between cranberry industry stakeholders, USDA and the Cranberry Marketing Committee USA has culminated in the timely commitment to a $55 Million purchase of a broad range of U.S. cranberry products through the USDA Food Purchase Program (FPP).
The purchase of approximately 68 million pounds or 680,000 barrels of U.S. grown cranberries will benefit national nutritional assistance programs, including the National School Lunch Program and other charitable institutions. These kinds of commodity purchases provide quality, wholesome, healthy foods to those in most need.
The FPP benefits American farmers who are supplying quality finished products and raw materials for USDA foods and in turn can continue to provide economic opportunities for their local community. The agency will put out procurement notices for specific products in the next few months.
"This exciting development is a clear indication of what the cranberry growers and their supporters can accomplish working together," said Scott J. Soares, Executive Director, CMC. Soares also stated that the USDA purchase not only improves the economic outlook for one of the nation's most historic agricultural sectors but increases access to consumers across the U.S. for cranberries -- or as he likes to call them: "America's Original Superfruit™".
Complementary to the USDA purchase, in 2014 dried cranberries were added to the USDA foods available list. With recent CMC surveys showing increased interest and demand for cranberries in school foodservice, the USDA procurement means that more foodservice professionals will now have affordable access to cranberry products. Seventy-eight percent of foodservice professionals now plan to use more cranberries in dishes such as salads, casseroles, salsas and sandwiches, according to a survey conducted by the Cranberry Marketing Committee USA at the 2014 School Nutrition Association (SNA) Annual National Conference.
About the Cranberry Marketing Committee (CMC)
The CMC was established as a Federal Marketing Order in 1962 to ensure a stable, orderly supply of good quality product. Authority for its actions are provided under Chapter IX, Title 7, Code of Federal Regulations, referred to as the Federal Cranberry Marketing Order, which is part of the Agricultural Marketing Agreement Act of 1937, as amended. This Act specifies cranberries as a commodity that may be covered, regulations that may be issued, guidelines for administering the programs, and privileges and limitations granted by Congress. For more information about the CMC, visit uscranberries.com or follow @uscranberries and Cranberry Cravers on Facebook.