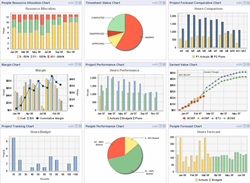 Unanet graphical dashboards provide managers with real-time insight into key metrics on projects and people
Dulles, Virginia (PRWEB) November 26, 2014
Unanet, a developer of services automation software that helps organizations manage people and projects for improved profitability, has announced that it is a Silver Sponsor of PSMJ Resource's A/E/C Industry Summit, in Orlando, Florida from December 4-5.
The theme for the conference is "Pushing the Limits - Breakthrough Secrets of Top-Performing A/E/C Firms." Over 200 senior executives from the A/E/C (architecture, engineering and construction) industry are expected to attend. The conference agenda includes a pre-conference on December 3, networking breaks and offers dozens of break-out sessions. Session categories include strategy, marketing, project delivery and financial management.
Unanet's software is used by many architecture and engineering firms to manage project time and expense, and providing managers with real-time visibility and insight into the status of people and projects. Benefits reported by Unanet A/E/C customers include the following:

More accurate entry of time, leading to better visibility into project issues and enhanced ability to forecast true costs to complete.
Better control over timesheet review and approval without undue administrative overhead.
Approval process through alternate approvers that is compliant with DCAA requirements.
Ad hoc reporting tools in the hands of the Project Managers.
Leveraging existing financial and project management systems.
About PSMJ
PSMJ Resources, Inc. is the world's leading authority, publisher, and consultant on the effective management of architecture, engineering, and construction firms. With offices in the United States as well as the United Kingdom and Australia, PSMJ offers over 150 titles in book, audio, and video format. In addition, the company publishes several monthly periodicals and delivers dozens of seminars, roundtables, conferences, webinars, and in-house training sessions every year for A/E/C professionals around the world. PSMJ's sought-after consulting expertise covers a range of critical business areas such as strategic planning, project management, valuation, succession planning, and mergers & acquisitions.
About Unanet:
Unanet is a leading provider of Cloud or On-Premise software for project-based organizations. Unanet delivers skills management, resource planning, budgeting & forecasting, timesheets, expense reporting, billing & revenue recognition, and project management reporting. Over 1,000 organizations rely on Unanet to maximize staff utilization, reduce administrative costs by 90%, improve invoicing by 10X, and support forward decision-making for improved operations.