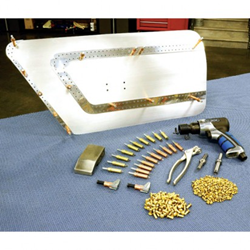 These are the same rivets used on aircraft and high performance race vehicles
Pottstown, PA (PRWEB) November 30, 2014
The Eastwood Company has launched a DIY Solid Rivet Kit for auto enthusiasts. The kit is used to structurally join panels and provide a decorative-look, which is popular on underhood panels, on interior panels and bomber-style seats, and countless other automotive applications.
The Solid Rivet Kit includes all of the components required to drive AN470 (round head) rivets in both 1/8 and 3/16 inch diameter. "These are the same rivets used on aircraft and high performance race vehicles," said Nick Capinski, Eastwood Content Manager. "This kit contains everything needed to make solid, structural joints, and is a fraction of the cost of trying to piece together the tools needed".
The kit includes a professional pneumatic rivet gun, 1/8 inch and 3/16 inch rivet sets for round head rivets, universal bucking bar, 1/8 inch and 3/16 inch Cleco kit and 1/4lb of 1/8 inch and 3/16 inch rivets in 3/16" and 5/16" length.
Eastwood markets unique tools and supplies for repair, restoration, and modification of cars, trucks, and motorcycles. Founded in 1978, Eastwood strives to develop new products to serve the home automotive hobbyist, as well as individuals and organizations focused on the restoration and customization of automobiles and motorcycles. Writers are always welcome to use any article in Eastwood's Free Tech Library, with attribution. Contact Nick Capinski at ncapinski(at)eastwood(dot)com.