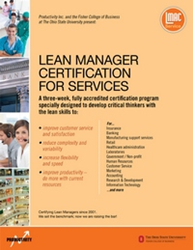 Companies need to develop new capacities to meet not just today's challenges, but tomorrow's. Lean management is the best way to provide that agility.
Shelton, CT and Columbus, OH (PRWEB) December 01, 2014
Productivity Inc. and The Ohio State University today announced a new certification program that teaches business leaders how to transform services using lean principles.
The Lean Manager Certification for Services program is designed for senior and middle managers in insurance, banking, government, retail, laboratories, healthcare and other service businesses, as well as for managers of service processes in manufacturing.
"With fast-paced change in technology, in customer expectations, and in the rate of global start-ups, the status quo in service operations is not sufficient for businesses to survive and thrive," said Peter Ward, Professor of Operations at The Ohio State University. "Companies need to develop new capacities to meet not just today's challenges, but tomorrow's. Lean management is the best way to provide that agility."
Michael Kuta, Managing Partner at Productivity Inc., said, "We've seen mid-sized and large service companies achieve drastic reductions in lead time and work in process and big leaps in productivity, employee morale, and ultimately customer satisfaction and customer experience ratings. Lean helps you do more with current resources and paves the way for growth and increased profitability."
Lean principles have been applied in almost every industry over the past 30 years. Rooted in Toyota's approach to managing operations, lean management aligns work around customer needs and values and gets rid of waste. It connects customer values, top strategy, and front-line action, bringing greater meaning to work.
According to Kuta, applying lean in services poses unique challenges. "Service processes can be very complex, variable, and hard to see. This program will help managers develop the critical thinking and lean management skills to make work visual, reduce complexity, and increase speed and flexibility," Kuta said.
The program is set up in three "learn—practice—learn" cycles that combine non-consecutive education weeks on campus with on-the-job application during intervening weeks.
"The problem with traditional training is that when people just learn a collection of lean tools, efforts can be disjointed," said Peg Pennington, Executive Director of the the Center for Operational Excellence at The Ohio State University's Fisher College of Business. "This program counteracts that. It integrates learning and doing in the technical and social sides of transformation. That instills confidence and actually turns managers into effective agents of change. The participants benefit, and their companies benefit many thousand-fold from the skills and results they bring back."
The Winter 2015 session begins January 26, 2015 on the campus of The Ohio State University in Columbus, OH. Participants must be sponsored by their companies, and will be certified as Lean Managers by Productivity and OSU and earn 12 CEUs upon successful completion of the course.
Enrollment is now open. For more information and a complete curriculum visit http://www.productivityinc.com/education/certification/lmac-service/
Productivity Inc. is a leading consulting and training firm in business since 1979 helping organizations build improvement capabilities, save money, and grow. through Operational Excellence, Strategic Innovation, and Leadership & Culture. Visit http://productivityinc.com for more information.
The Ohio State University's Fisher College of Business has, since 1916, produced exceptional leaders who meet the challenges of a changing global business environment. It ranks in the top 10 business schools in the U.S. at the undergraduate and graduate levels of public universities. Visit http://fisher.osu.edu for more information.
Productivity Inc. and The Fisher College of Business jointly developed the first fully accredited Lean Manager Certification Program for manufacturing leaders in 2001.