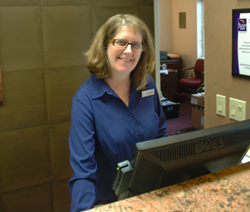 We can't deny the fact that we have homeless people in our community, or that the face of homelessness has changed in recent years. This could easily happen to any one of us.
Traverse City, MI (PRWEB) December 04, 2014
Choice Hotels International has named the manager of a Traverse City hotel one of its 2014 "Community Heroes" for working to put local hotels in the front lines of helping victims of homelessness.
Kathy Kelly, general manager at the Sleep Inn & Suites in Acme, was recognized for enlisting her own property and several others in a lodging voucher program for families who need emergency shelter, according to Traverse City Tourism, the community's official destination marketing organizaton.
"We can't deny the fact that we have homeless people in our community, or that the face of homelessness has changed in recent years," she says. "This could easily happen to any one of us. But we in the hospitality industry have a vehicle that can put this issue to bed in our community. And really, hospitality is synonymous with helping people."
The idea began last winter, on a bitterly cold New Year's Eve. Kelly was volunteering at a local crisis hotline when she received a call from a homeless mother who was nearly out of gas and needed a place for herself and her two children. All the town's usual homeless shelters were either full or couldn't accept families with children. Her supervisor suggested she tell the woman to take the kids to a nearby department store that was open all night and "keep moving."
Fortunately, there was another option. At the last minute, Kelly learned of a state voucher program that reimburses local hotels for providing rooms to people in need of emergency housing. The mother and her children found a place to sleep that night, and Kathy Kelly found a new cause. She decided to learn more about hotel vouchers and their uses – particularly how such programs can bring hoteliers and community action agencies together to help people find shelter.
A scenic Lake Michigan resort community famed for its dramatic natural beauty and a reputation as a four-season staging area for outdoor adventure, Traverse City has its share of people in crisis. And despite its popularity in summer, says Kelly, midwinter hotel vacancy rates in some weeks can exceed 60 percent. Those empty rooms aren't producing revenue but could be put to use, even though the vouchers provide only a partial reimbursement.
Fortunately Kelly's boss, Sleep Inn & Suites owner Rob Rodenroth, understood what she was talking about and encouraged her to sign the hotel up for the voucher program. During the course of the year, they received about 100 vouchers to provide rooms for people in need – including one family who stayed with them from January through May.
By then, Kelly was hard at work trying to persuade other properties to join the effort. Before the end of the season another six hotels had signed up, and a local taxi company, the Cherry Capital Cab Co., had volunteered to provide transportation for people who didn't have their own vehicles.
Applicants are prescreened by the community agency that issues the vouchers, so participating hotels have some degree of confidence that they're not simply offering what Kelly calls "a band-aid," but helping in a process that is supposed to lead to jobs, stability and secure long-term housing. The screening also helps ease a few hotel concerns about bringing in guests whose lifestyle or behavior issues might be offensive or alarming to other customers.
"You're going to get that difficult one percent in any population, even among people who aren't homeless," said Rodenroth. "We've both managed nightclubs, so we've seen lots of that. But most of the people who've come to us this year have been very appreciative."