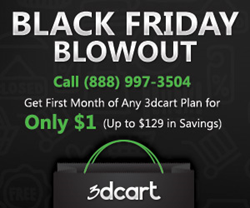 3dCart offers an easy and low cost shopping cart solution for anyone to be able to build an online store in less than an hour.
Tamarac, FL, (PRWEB) November 26, 2014
3dCart today announced its Black Friday & Cyber Monday specials for new and existing customers.
With the expected growth of ecommerce in the future, 3dCart is offering an easy and low cost solution for anyone to be able to start an online store. Just looking at the projections of the 2014 holiday season, online sales alone are forecast to jump 11% over 2013 to as much as $105 billion, making 2014 the biggest online holiday seasons in history.
Make sure to take advantage of these limited time specials as they will allow clients the ability to build an online store for any small business in less than an hour:
Hosting Promotion:
First Month of Any 3dcart Plan – Only $1 (Up to $129 in Savings): The demo store is ready, so go ahead and make the switch to 3dcart's community of more than 17,000 online merchants! As a new customer, get the first month of any plan with 3dcart for just $1!
Service Promotions:
3 Months of 3dUpsell at No Cost – (Reg. $74.97): Increase conversions and reduce cart abandonment by actively engaging website visitors with unique, time sensitive offers.
3 Months of Address Verification Service at No Cost – (Reg. $30.00): With the address verification add-on, provide the shopper with real-time shipping address verification.
Facebook Connect for $100 – (Reg. $149.00): Generally people that shop online have a Facebook account. The Facebook Connect plugin for 3dCart allows visitor the ability to login with a Facebook account.
$399 Theme Customization – (Reg. $699): All of the 3dCart themes are awesome already but in order to make sure you stand out in a crowd, customization of a theme will give any business website a one of a kind look.
Bronze Design Package Only $1,500 – (Reg. $2500): The 3dcart bronze design package offers everything needed to create a consistent and professional brand experience proven to convert into sales.
2nd Month of Google Shopping at No Cost* – ($199 Value): Service to monitor and optimize Google Shopping Ad campaigns for the 2nd month of service on Google Shopping to make sure all business needs are set for success. *Ad spend not included.
Don't Delay Sign up Today and Take Advantage of the Black Friday Blowout & Cyber Monday Markdowns!
Limited Time Offer Valid Wednesday, November 26th – Monday, December 30th
About 3dCart
3dCart (http://www.3dCart.com) is the leading eCommerce provider for businesses of all sizes. It simplifies the complexity associated with building an online store and in the process helps businesses succeed online. As a leader in the eCommerce space, 3dCart partners with more than 200 of the world's leading online service providers, including payment solutions, shipping carriers and more. Its web-based offering provides the most complete set of ecommerce services available, including website building, order management and marketing tools. Established in 1997, 3dCart's entire operation including product development and technical support is U.S. based in their Tamarac, Florida offices. Today, 3dCart is an Inc. 5000 company, and a Visa PCI Certified provider.