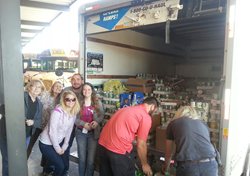 Orange Beach, AL (PRWEB) November 25, 2014
In its ongoing effort to reach out to the community, Columbia Southern University (CSU) employees recently donated approximately 6,700 canned goods and $600 to the fourth annual Turkey Take Out food drive.
"This tremendous effort by our staff and faculty was simply amazing," said CSU Director of Employee Activities Vicki Barnes. "CSU has always been a strong supporter of charitable events like the Turkey Take Out in the Gulf Coast Alabama area. I have to say it is humbling to know we can help so many through the gift of food."
Turkey Take Out was established to provide families with a warm meal on Thanksgiving Day as well as non-perishable food items to fill pantries. Turkey Take Out is a community partnership of businesses, churches and organizations with Foley Elementary School that began after local pastoral leaders and citizens learned of the severe need of many of the elementary school's students.
To inspire and motivate employees, CSU challenged its departments to see which could collect the most amount of canned goods. Staffers could also donate $20 or 20 cans to be allowed to wear jeans daily to work for a two-week period.
To learn more about Turkey Take Out, visit http://www.turkeytakeout.com
CSU offers online associate, bachelor's and master's degree programs in various fields including criminal justice, homeland security, fire administration, occupational safety and health, organizational leadership and business administration. To learn more about CSU, please visit http://www.ColumbiaSouthern.edu.