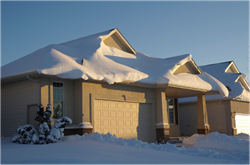 My gut tells me things are going to get milder before they get worse. And I'm so sure of it that I'm making this special 100% Refund offer in December. -Frank Farmer- President, American Metal Roofs
Flint, Michigan (PRWEB) December 01, 2014
American Metal Roofs (AMR) New Years Snow Promotion challenges Michigan Winter by giving away free roofs to customers, if the snowfall exceeds six inches on New Years Day.
American Metal Roofs President Frank Farmer has taken on a big wager this month. He is so sure that Michigan will see a milder winter this year than last year, that he is putting his money where his mouth is. Farmer's latest offer gives customers a terrific incentive to buy a new roof this month.
The Promotional period runs from December 1, 2014, through December 24, 2014. Only roofs purchased during the promotional period with a signed waiver are eligible for the refund. Details are outlined on the AMR website.
"If it snows six inches or more at American Metal Roofs headquarters in Flint on New Year's Day 2015, participating December customers will get a 100% refund of the cost of their American Metal Roof! That means there's never been a better time to purchase an American Metal Roof." -Frank Farmer, President AMR
Frank Farmer is committed to serving the community. In addition to the free roof give away, if the snow does hit the mark, Frank Farmer has promised to buy a truckload of food from "Companies Feeding Families" and personally distribute it to hungry families in Genesee County!
Farmer encourages everyone to visit the AMR website to learn more about the promotion, the rules and how to register. Interested parties may also call 1-844-Metal Roofs to set an appointment.
About American Metal Roofs:
American Metal Roofs provides residential and commercial metal roofing products and services for the Michigan Lower Peninsula. American Metal Roofs specializes in installing metal roofing from the leading manufacturers of permanent metal roofing.
http://www.americanmetalroofs.com
Frank Farmer - Weatherman!
"I grew up in the UP, so I know something about winter weather. Okay, we've had some early snow this fall, that doesn't mean it's going to be another long snowy winter like last year. I've seen dozens of Michigan winters and I don't think we've ever gotten two really bad ones in a row. My gut tells me things are going to get milder before they get worse. And I'm so sure of it that I'm making this special 100% Refund offer in December. But if I'm wrong…well, let's just say I'll be writing a lot of checks on January 2nd."