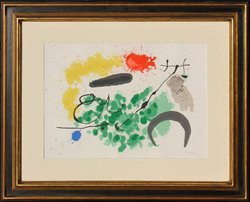 The works must be conceived with fire in the soul but executed with clinical coolness.
Palm Desert, CA (PRWEB) November 27, 2014
For the official Season Opening Celebration that takes place every year on the Saturday after Thanksgiving, Hohmann Fine Art kicks off the 2014-2015 cultural season with the world class exhibition "Joan Miró—Fire in the Soul". The exhibition's title is inspired by a quote from the artist himself: "The works must be conceived with fire in the soul but executed with clinical coolness."
The gallery features more than 50 original, hand-signed lithographs and aquatints and some selected original works on paper by the world-renowned master. An opening reception for the public will take place Saturday, November 29, 2014 from 7-9 p.m.
Joan Miró i Ferrà (1893-1983) was a Catalan (Spanish) painter, sculptor and ceramicist born in Barcelona, Catalonia, Spain. Early in his life when he lived in Paris, France in the 1920s and 1930s he was part of the Surrealist movement, but soon he refused to be pigeonholed into any artistic movement. Starting in the early 1940s he developed his own visual vocabulary which would change art history and make him one of the most important artists of the 20th century. Not only was his artistic expression unique, but he was a disciplined worker with a prolific body of work. He was known as a master painter, sculptor and print maker. His print oeuvre alone comprises more than 2,000 different etchings, lithographs and other printing techniques such as the extremely rare pochoir, a form of stencil printing. This is a body of work that has only been matched or exceeded by Picasso.
In this noteworthy exhibition Hohmann Fine Art has accumulated works from almost every important period including two etchings from the very early surrealistic period of the 1930s including one of the most important prints in his work, the "Portrait De Miró", a self-portrait in which Miró used a lot of the visual vocabulary that would surface decades later.
Continuously questioning the visual elements of established painting, Miró's work has been shown in museums all over the world and his paintings have sold for millions in the international art market.
This is a rare opportunity to have such a large selection here in the Coachella Valley.
An exhibition catalog is available. There is no entry fee to see the exhibition. For more information about the show, visit online at http://www.hohmannfineart.com or call 760-346-4243.
Hohmann Fine Art is located at 73-660 El Paseo in Palm Desert, CA. Open Mon-Sat 10-6.
Learn more about the vision and mission of the gallery here: http://www.issuu.com/hohmann/docs/hohmann