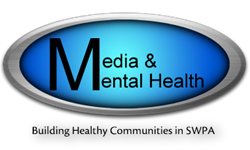 Pittsburgh, PA (PRWEB) November 25, 2014
WPXI-TV/PCNC, KDKA-TV, Mental Health America of Westmoreland County, Pittsburgh Post-Gazette, Pittsburgh Tribune Review, Beaver County Times, NewsRadio 1020 KDKA, and 90.5 WESA among nominees to be honored at the 4th Annual Media and Mental Health Awards. The SWPA Media and Mental Health Awards, which are produced by the Entertainment Industries Council (EIC), in collaboration with the Staunton Farm Foundation, honor print, online, TV and radio media coverage that accurately report on and depict mental health issues.
KDKA-TV received five nominations in two categories, leading the way with most nominations for this year's Media and Mental Health Awards. In the category for TV Feature Story, KDKA-TV was nominated for "Halfway There: Local Man Walking Across USA Makes It To Kansas" and "'Ian Walks America' Honored For Shedding Light On Mental Illness." KDKA-TV was also nominated in TV Spot Breaking News for "Doctor Offers Mental Health Perspective On Why Moms Harm Their Kids," "Rep. Murphy Proposes Mental Health Reforms," and "Mental Health Experts Reach Out To Franklin Regional During Conference."
WPXI-TV/PCNC received four nominations in the categories of TV Feature Story and TV Community Affairs. The nominations are, "Proud to be from Pittsburgh- Adam Blank," "Proud to be from Pittsburgh - Therapy Dogs," "Franklin Regional Strong," and "NightTalk - Eating Disorders and Depression."
Mental Health America of Westmoreland County, an affiliate of Mental Health America, received three nominations in the category of Internet Video Story: "Recovery is Possible: Darryl S.," "Recovery is Possible: Julie K.," and "Recovery is Possible: Linda P."
The Pittsburgh Post-Gazette received four nominations. In the category of Newspaper Enterprise/Investigative Article or Series, "Mysteries of the Mind" and "After Mayview: Mental Health Dilemma in the Region." Their pieces "We can do better for the mentally ill" and "Our mental health system must be improved" were nominated in the category Newspaper Op-Ed.
The Pittsburgh Tribune Review was nominated in the Newspaper Op-Ed Category for their piece, "Violence thrives in inaction." The Pittsburgh Tribune Review also received two nominations in the category for Newspaper Article: "Workshops educate students, dispel myths about mental illnesses" and "Fábregas: Bridge jumper to share his healing at mental illness conference." Beaver County Times received a nomination in the Newspaper Article category for their piece "Social Services Roundtable."
In the Radio Community Affairs Program category, NewsRadio 1020 KDKA received two nominations for their pieces "Congressman Talks About Dealing with Mental Illness" and "Suicide Survivor Brings His Miraculous Story To Pittsburgh." 90.5 WESA received three nominations in the category of Radio Spot/Breaking News: "Is Internet Addiction as Damaging as Drugs, Alcohol and Gambling?," "Navigating Health Care Can Often Leave Refugees Lost in Translation," and "When Violence Strikes, What about Mental Health?"
This year, EIC is also honoring Southwestern Pennsylvania news legends. There will be two Special Honorees: Media Legacy Awards given, one to Joe Rovitto for News Management and one to Adam Lynch for News Anchoring/Reporting. The 4th Annual Media and Mental Health Awards will also honor, in memoriam, Sally Kalson with an Advocacy for Justice Award.
This year's ceremony, which is set for December 3, 2014, will take place at the Sheraton Station Square in Pittsburgh. Rocky Bleier, Honorary Chairman, stated, "I learned a long time ago that victory is contagious. Imagine if we could defeat stigma and discrimination? We would be victorious over mental illness and those in need would want to seek the treatment they deserve. By teaming media with experts we can stand as a community built on resilience and victory of mind. I'm honored to be a part of the media and mental health movement to build healthier communities in Southwestern Pennsylvania with the Entertainment Industries Council."
"This event is the culmination of years of bridge-building in Southwestern Pennsylvania between the Pittsburgh media and mental health advocates," said Susan Brozek Scott, Pittsburgh Regional Director for EIC. "It says to journalists that their work to produce high-quality, accurate stories about mental illness is truly valued and recognized. And it says to people in our communities who have a mental health diagnosis that our region is standing by you, we applaud your efforts in treatment and recovery, and we are fully committed to working together to remove barriers and celebrate hope."
"The Staunton Farm Foundation is pleased to support and encourage accurate depictions in media about behavioral health issues that are often misunderstood by the public," said Joni Schwager, Executive Director of the Staunton Farm Foundation. "The media is the cornerstone as to how the public gets much of its health information. Journalists, news writers, reporters, and entertainment producers are critical to helping the public better grasp the dimensions of mental illness and the hope that our families, coworkers, and communities can foster."
"Our work in SWPA to elevate media awareness about behavioral health in storytelling is serving as a national model that demonstrates the value in accuracy and reporting on health concerns," said Brian Dyak, EIC President, CEO and Co-Founder. "The Media and Mental Health nominees should take great pride in the fact that their efforts are changing attitudes by facing the reality that many mental health challenges are surmountable."
The nominees for the Media and Mental Health Awards were selected by a committee of local Pittsburgh media professionals and experts from the fields of medicine and mental health. The honorees will be announced at the ceremony on December 3rd.
About Entertainment Industries Council
EIC, a non-profit organization, was founded in 1983 by leaders of the entertainment industry to bring the power of the industry to bear on communication about health and social issues. The organization is considered to be the chief pioneer of entertainment advocacy outreach and one of the premiere success stories in the field of entertainment education and information resources for entertainment creators, through innovative and time-proven services and methods of "encouraging the art of making a difference" from within the entertainment industry. EIC also produces the simulcast national television special PRISM Awards Showcase which addresses accurate portrayals of substance abuse and mental illness: prevention treatment and recovery.
EIC also addresses issues such as diabetes, ADHD, foster care, women's health, firearm safety and injury prevention, sun safety and skin cancer prevention, human trafficking, terrorism and homeland security, eating disorders and obesity, seat belt use and traffic safety, and HIV/AIDS prevention. It has also launched an initiative to increase the public profile and interest in science, engineering and technology. EIC's web site is http://www.eiconline.org. The PRISM Awards web site is http://www.prismawards.com
About the Staunton Farm Foundation
The Staunton Farm Foundation is an organization dedicated to supporting mental health treatment and service for children, teens, and adults suffering from mental disorder in Southwestern Pennsylvania. Originally founded in 1937 in accordance with the wishes expressed in Matilda Staunton Craig's will, the foundation has expanded to include university and hospital out-patient clinics as well as the 10 counties that comprise the southwestern region of Pennsylvania. The Staunton Family Foundation remains committed to providing support for individuals suffering from mental health disorders and their families through its continuous support of systems and organizations developing enhanced behavioral health treatments.
Media Contact:
Susan Brozek Scott
(412) 486-2151
sbscott(at)eiconline(dot)org
Larry Deutchman
ldeutch(at)eiconline(dot)org
For More Information on EIC in Southwestern PA and The Media and Mental Health Awards:
http://www.eiconline.org/swpa
Media and Mental Health Awards Recognition Nominations List:
TV Feature Story:
Halfway There: Local Man Walking Across USA Makes It To Kansas (KDKA-TV)
"Ian Walks America" Honored For Shedding Light On Mental Illness (KDKA-TV)
Proud to be from Pittsburgh - Adam Blank (WPXI-TV)
Proud to be from Pittsburgh - Therapy Dogs (WPXI-TV)
TV Spot Breaking News:
Rep. Murphy Proposes Mental Health Reforms (KDKA-TV)
Doctor Offers Mental Health Perspective On Why Moms Harm Their Kids (KDKA-TV)
Mental Health Experts Reach Out To Franklin Regional During Conference (KDKA-TV)
TV Community Affairs:
Franklin Regional Strong (WPXI-TV)
NightTalk - Eating Disorders and Depression (PCNC)
Internet Video Story:
Recovery is Possible: Darryl S. (Mental Health America of Westmoreland County)
Recovery is Possible: Julie K. (Mental Health America of Westmoreland County)
Recovery is Possible: Linda P. (Mental Health America of Westmoreland County)
Newspaper Enterprise/Investigative Article or Series:
After Mayview: Mental Health Dilemma in the Region (Pittsburgh Post-Gazette)
Mysteries of the Mind (Pittsburgh Post-Gazette)
Newspaper Op-Ed:
Our mental health system must be improved (Pittsburgh Post-Gazette)
Violence thrives in inaction (Pittsburgh Tribune Review)
We can do better for the mentally ill (Pittsburgh Post-Gazette)
Newspaper Article:
Fábregas: Bridge jumper to share his healing at mental illness conference (Pittsburgh Tribune Review)
Social Services Roundtable (Beaver County Times)
Workshops educate students, dispel myths about mental illnesses (Pittsburgh Tribune Review)
Radio Community Affairs Program:
Congressman Talks About Dealing with Mental Illness (KDKA)
Suicide Survivor Brings His Miraculous Story To Pittsburgh (KDKA)
Radio Spot/Breaking News:
Is Internet Addiction as Damaging as Drugs, Alcohol and Gambling? (WESA)
Navigating Health Care Can Often Leave Refugees Lost in Translation (WESA)
When Violence Strikes, What about Mental Health? (WESA)
###