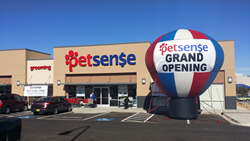 We are honored that Steve would bring his talents to Petsense
Scottsdale, Arizona (PRWEB) December 02, 2014
National pet supply retailer Petsense recently hired former Safeway Eastern Division President Steve Neibergall for the newly created position of Chief Operating Officer. According to Pet Business Magazine, Petsense is the nation's tenth largest pet specialty retail store operator, and the creation of the Chief Operating Officer roll will allow Petsense to continue to accelerate growth in the coming years.
President and C.E.O. Bob Angstead stated "I worked with Steve over 25 years ago when we both worked at the same grocery retailer and we were just starting our careers. The qualities he displayed 25 years ago are the same qualities he displays now: honesty, accountability, and a passion for customer service. We are honored that Steve would bring his talents to Petsense; he is not only a first class retailer, but he possess integrity beyond reproach and will connect with our associates and store teams in a way that will inspire them to serve their customers and their pets like never before."
As Chief Operating Officer at Petsense, Steve will have broad responsibility for the overall operations of the company, playing a role in operations, merchandising, marketing, and associate and customer satisfaction. Regarding his new role, Steve remarked, "The Petsense team of managers and associates have built an incredible company that is bringing quality, premium pet supplies to markets that were previously underserved. I am excited to join the team as we accelerate our growth and connect with our customers all over the country. We recently opened our 108th store in Frisco, Texas; I look forward to helping refine and improve our store model for the next several hundred stores."
As Eastern Division President of Safeway, Steve was responsible for over 15,000 associates in 125 stores. After starting his career as a store manager, Steve took on progressively more challenging roles ranging from VP of Retail Operations to Senior VP of Produce and Floral Operations.
Steve joins an experienced Petsense leadership team that has over a century of combined pet retail experience. CEO Bob Angstead began his pet retail career with PetSmart when the Phoenix-based retailer had only seven stores, gradually rising to Vice-President of Store Operations before leaving the chain when it reached 500 stores. In addition to Mr. Angstead, Petsense's Vice-Presidents of Merchandising, Construction, Service Development, Operations and Logistics are also PetSmart alums. The industry experience of Petsense employees, combined with the flexibility of operating without a company owned distribution network, has allowed Petsense to quickly rise to number ten on Pet Business Magazine's "2014 Pet Business Top 25 Retailer's List."
# # #
PetSense LLC is a privately held retailer that specializes in reaching rural markets across the United States. Founded by PetSmart founder Jim Dougherty in 2005, the company currently has 108 locations in 23 states from coast to coast.