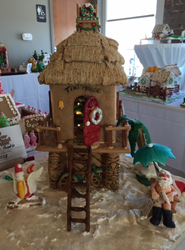 The SOGO District is the place to be right now in Pensacola.
Pensacola, Florida (PRWEB) November 26, 2014
Shoppers looking for a much more mellow and relaxing experience than the malls on Black Friday should take in the shopping, sunny weather, and gorgeous scenery in Pensacola. Foodie finds like "Pirate Sauce," handmade surfboards, Air Force "Onesies" and baby Blue Angels flight suits, and great grouper from Gulf waters are just some of the fun finds in and around Pensacola's diverse shopping scene.
Pensacola's hottest new shopping district, "SOGO," gets its name from its location: "South of Government Street" in downtown. Within the past year, it's attracted an eclectic mix of shops: Between, a women's clothing boutique and lingerie store; Mainline Art House, which features modern local art and fun gifts like handmade stationary and brackish bow ties; the Bodacious Brew, serving up some of the city's best lattes and fine chocolates; the Bodacious Olive, an epicurean market featuring artisanal olive oils, infused balsamic vinegars, and gourmet salts; McAlpin Interiors, offering antiques and gifts for the home; Susan Campbell jewelry features fine and fashion designer jewelry, including one-of -a kind artistic pieces. These stores join Scout and Don Alans, Pensacola's high-end men and women's clothing boutiques.
"The SOGO District is the place to be right now in Pensacola," says Daniel Pennington, media specialist for the SOGO District. "You can easily spend the day in this beautiful block and take in lots of great shopping and great food."
SoGourmet, Pensacola's newest kitchen and cooking store in the SOGO District not only has top chef gifts, but fun decorations for families and kids to see. Modeled after Ashville, North Carolina's largest gingerbread contest, dozens of complex gingerbread houses, depicting different scenes in Pensacola fill the store. And, who doesn't love a life-like talking Santa Claus? He's new this year, and he's helping to make SoGourmet an inviting, fun shopping experience for everyone.
Spend a day is SOGO, or hit these additional unique, shopping hot spots in Pensacola:
Downtown Palafox Street
Shoppers will find handmade Christmas soaps and peppermint lotions at Belle Ame Bath and Body, Roberto Coin and David Yurman fine jewelry along with unique pink conch pearl necklaces at Jewelers Trade Shop and Elebash Jewelry Company, grand pianos at Dollarhide's Music Center, everything from monogrammed towels to SEC accessories at downtown's old-fashioned Pensacola Hardware, and Bourbon and Boweties bangles and designer jeans at Indigeaux Denim Bar and Boutique. For a complete list of shops, visit http://www.downtownpensacola.com
Portofino Boardwalk on Pensacola Beach
A quaint boardwalk along gorgeous Pensacola Beach features a fun atmosphere and island-style stores for the beach-lovers on your list. Envie boutique offers resort wear and designer duds from Free People and Trina Turk; Islanders Coastal Outfitters carries Patagonia, Toms, and a variety of fun and funky beach t-shirts; Salty Beach Outfitters offers Vineyard Vines, Pura Vida bracelets, Southern Marsh, as well as My Saint My Hero blessing jewelry. For more information and more stores, visit http://www.pensacolabeachboardwalk.com.
Duh
Located on an entire city block near Gregory Street in downtown Pensacola, this charming shopping village has acquired a national following. Wind through the white stucco villas, courtyards, and barn for gifts for the garden and home, including fine furniture and home décor from sources all over the world. For a virtual tour of the store, visit http://www.duhpensacola.com.
First City Arts Center
It's Pensacola's hand-on learning and creation station for the arts, and shoppers can browse the student gift shop this year for a variety of unique gifts including hand-blown glass bead jewelry, pottery, cups, and glass ornaments. Or, sign up ahead of time, and make your own gifts like paper jewelry during one of their many art workshops. For times and more information, see http://www.firstcityart.org.
Joe Patti's World Famous Seafood Market
A visit to Joe Patti's allows you to give the gift for which most are always grateful: the gift of good food. Pensacola's large, indoor seafood market on the dock on the bay is always bustling with activity and offers the freshest seafood of all types-shrimp, grouper, tuna, and more-plus homemade dips, breads, and spreads that ship across the U.S. For times and location, visit http://www.joepattis.com
J.W. Renfroe Pecan Company
Renfroe's is owned by a long-time, local Pensacola family and is famous for its variety of pecans, peanuts, mixes, and condiments like sweet potato pecan butter and chocolate butter toffee pecans. They make fudge and New Orleans pralines in their on-site kitchen daily and offer special holiday food items and gifts.
For more information, visit http://www.renfroepecan.com.
Antique European Linens
Pandora de Balthazar's shop features some of the finest European luxury bedding and linens in the South. Order custom embroidered antique linen napkins for Christmas dinner! The shop also features classic antique pillow shams, tablecloths, and hand towels. To view examples of the custom embroidery, visit http://www.pandoradebalthazar.com
Palafox Market
Organic herbs and cheeses, chocolates, and local honey plus custom made children's hair bows, handmade jewelry, and eclectic outdoor home décor fill up this open-air market every Saturday in downtown Pensacola from 9:00 a.m. to 2:00 p.m. For a complete list of vendors, visit http://www.palafoxmarket.com.
Flight Deck Store at the National Naval Aviation Museum
The Flight Deck offers great stocking stuffers for the largest to smallest aviation fans like hats, t-shirts, jewelry, blue angels bibs, bomber jackets and kids' flight suits. These are gifts that keep giving, too, because proceeds go to the Naval Aviation Museum Foundation that supports the programs and museum itself. For times and more information, visit navalaviation.com.
Gift Shops at famous Pensacola restaurants: McGuire's, The Fish House, and Peg Leg Pete's
Stop for lunch while holiday shopping, and why not do so where you can pick up a stocking stuffer or two? Take home a taste of Pensacola and souvenirs from McGuire's Irish pub like their cookbook and steak sauce, the famous "Pirate Sauce" from Peg Leg Pete's or visit the Tackle Shop at the Fish House for stone ground grits, hot sauce, and Fish House t-shirts. Preview items online by visiting: http://www.mcguiresirishpub.com, greatsouthernrestaurants.com, peglegpetes.com.
#
About Visit Pensacola
Visit Pensacola leads the effort of economic development through tourism in Escambia County. Comprised of over 200 member businesses, Visit Pensacola's mission is to position the Pensacola Bay Area as a premier year-round travel destination through tourism marketing, communications, meetings and conventions, reunions and group tour initiatives.
###