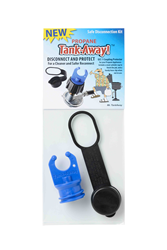 Sarasota, Fla. (PRWEB) December 02, 2014
The ingeniously simple TA-4 Safe Disconnect Kit from Line-Safety, LLC provides the solution for safe propane grill storage and an inexpensive holiday gift idea – a perfect stocking stuffer for the 'grill master' in the household.
The propane industry recommends that when barbecue grills or other portable propane appliances are not in use for extended periods of time, as in the "winter" season, propane cylinders be stored outdoors – not in an enclosed shed or garage. The TA-4 Safe Disconnect Kit provides a quick and convenient way to protect the couplings from corrosion, dirt build-up and insect infestation while disconnected, and assure a clean, reliable reconnect.
The two-piece "cap and plug" system provides "protection for both sides of your connection." The cap slips securely over the tank's outlet thread and the unique sealing plug threads securely into the hose coupling, protecting against nesting insects, contamination and abrasion. The system is simplicity itself, requiring absolutely no tools at all.
The TA-4 Safe Disconnect Kit can be seen on the company's web site, http://www.tank-away.com. The company is also accepting U.S. distributor / retailer inquiries.
About Line-Safety, LLC:
Line-Safety, LLC, developers of the Tank-Away!™ Hose Tidy System, was formed by Bill Cooke and Karen Swift, propane industry innovators with many years of grill manufacturing experience.