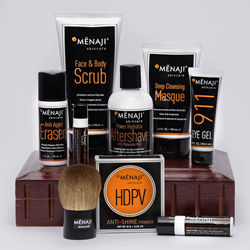 "I like to apply the Menaji Face & Body Scrub to the face for a closer shave," Master Barber Shane Fattarino said.
CONNECTICUT (PRWEB) December 01, 2014
This Movember, men will find Menaji Skincare luxury grooming products at Connecticut locations of America's famous grooming retail chain, Kennedy's All-American Barber Club. The decision was made to introduce Menaji Skincare as part of the pathway to better serve the clients' needs at this "destination grooming" establishment.
Repeatedly voted Best Barbershop, Best Place for Men to Get a Haircut, and Military-Friendly, Kennedy's All-American Barber Club is famous for its nostalgic setting with modern amenities such as billiard tables and a bar. Now, after being introduced to Menaji Skincare at Kennedy's, clients can also get the top-shelf skincare treatments to take home for use in between visits.
Shane Fattarino, Master Barber at Kennedy's at the Darien Club said that Menaji products complement their shaving style and help Kennedy's achieve that superb shave for which they are known.
"I like to apply the Menaji Face & Body Scrub to the face because it softens the bristles and stimulates the follicle to have the hair stand on end for a closer shave," Fattarino said.
Fattarino has used the Menaji Face & Body Scrub shave prep to even the most discerning of clients such as Mariano Rivera, former New York Yankee. He said he also loves the way the 911 Eye Gel feels under his eyes.
"This is a unique opportunity to make sure that clients get the best skin treatment and shave possible," said Pamela Viglielmo, Chief Operating Officer of Menaji Skincare.
The partnership is part of a successful and increasingly popular approach in the men's grooming market, which is transforming the way men think about their appearance and skincare, and the way they take care of themselves. Men now consider the need to be better groomed to be successful as a real worklife issue, and they are making strides to incorporate a regimen into their busy lives. And, for men who grew facial hair supporting prostate cancer awareness – they can take it off experiencing a top shave at Kennedy's with Menaji.
Mënaji Skincare has been providing luxury men's grooming products since 2000 and was recently selected by Lodging Magazine to be featured for its 911 Eye Gel as a favorite product for jet lagged eyes.
Kennedy's All-American Barber Club, which is based on providing a personally relevant, engaging experience, now can also extend their services to include teaching men about how to put their best face forward for meetings or dates.
"We're excited about giving Kennedy's clients an extension of their amazing service and providing them with more luxury products so they can maintain a youthful, pulled-together look," Viglielmo said.
About Menaji
Menaji Skincare, a category leader in the "booming men's grooming" segment of the global beauty industry, was founded in 2000 by Nashville-based celebrity make-up artist Michele Probst. Sold in the USA and overseas in more than 20 countries, the Menaji product line addresses men's skincare needs with healthy skincare and undetectable skin-tone true cosmetics. E-tail purchases of Menaji Skincare include select sample packets.
About Kennedy's All-American Barber Club
Kennedy's All-American Barber Club is a quiet retreat where men can be surrounded by other like-minded souls needing the grooming and personal services that true gentlemen need.